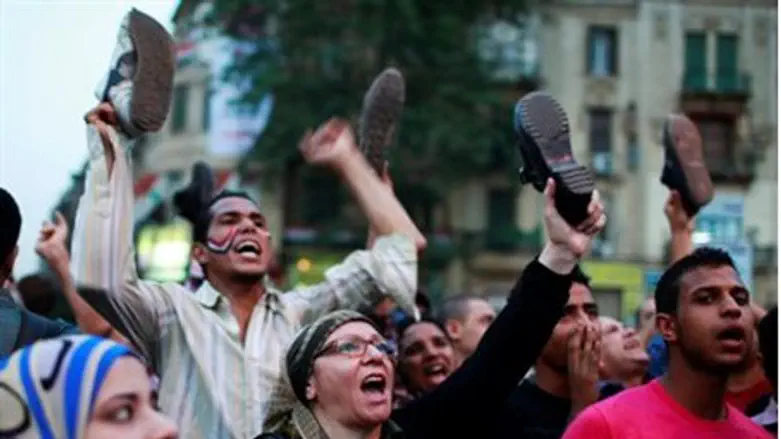 Protesters wave their shoes at Tahrir Squar
Reuters
Scenes of last year's anti-Mubarak uprising returned to Cairo's Tahrir Square Monday as thousands rioted, some of them torching the headquarters of presidential candidate and former prime minister Ahmed Shafik.
No deaths were reported and there were few injuries, in sharp contrast to last year's demonstrations in which Mubarak's security forces shot protesters on the spot.
Shafik and Muslim Brotherhood candidate Mohammed Morsi emerged as the winners in the first round of voting, the first time Egyptians have been able to vote in a presidential election that was not rigged. However, the presence of Shafik as one of the two final contenders set off a violent response, with rioters yelling in Tahrir Square, "Where is the revolution?" while others ransacked Shafik's campaign headquarters and set the offices on fire.
The run-off will take place in voting on June 16 and 17.
Despite the display of democracy, CNN wrote in a sub-headline, "Voters' dilemma: Choice between two tyrants?"
Morsi, the Muslim Brotherhood candidate, campaigned with statements for women's rights and peaceful relations with Israel but in the not-distant past has called for barring women from running for president and has called Israelis leaders "killers" and "vampires."
Shafik promised he will not return Egypt to the regime of Mubarak despite his former close association with him.
No matter who wins, the fate of the Egyptian parliament was sealed in elections several months ago, with the radical Muslim Brotherhood party, outlawed under Mubarak's rule, winning nearly half the seats in the legislature. Combined with the extremist Islamist Al Nour party, the two factions control 70 percent of the parliament.
Morsi has the backing of Al Nour, which voted for a different candidate in the first round of voting, while Shafik faces legal disqualification if Egypt's supreme court upholds the constitutionality of a law that bars former senior officials in the Mubarak regime from running for president.
The voters' choice has been described as being between voting for Shafik and admitting that the revolution failed or voting for the Muslim Brotherhood's Morsi and gambling on losing the same freedoms the uprising demanded.