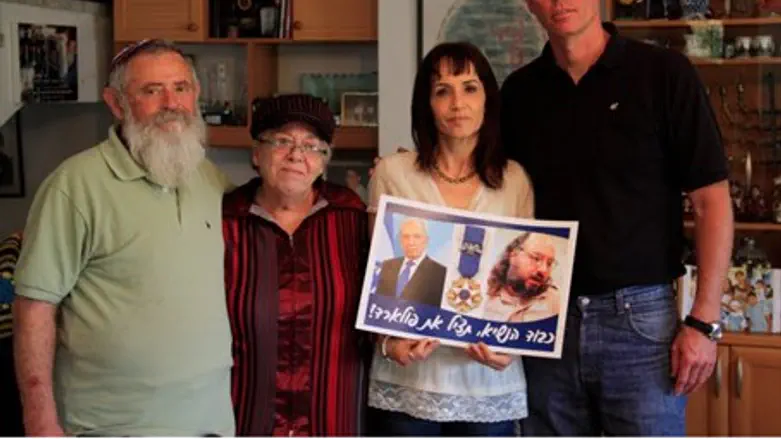 Bereaved Families for Pollard
הלל מאיר
Families bereaved by terror – who watched as Israel released their loved one's murderers in exchange for kidnapped soldier Gilad Shalit – are imploring President Shimon Peres to exert himself in seeking convicted Israeli spy Jonathan Pollard's freedom.
"The price we paid requires us to act to save his life," Esther and Yehuda Waxman, and Ruhama Raz and Ron Kerman wrote to Peres. "In recent years we have found ourselves on opposite sides of the terrible situation that rips the public to pieces, but we can come together for this great cause."
While the Shalit deal was decided on by the Netanyahu government, President Peres' signature was required to grant the terrorists 'clemency' and set them free.
"As those who have paid a personal and terrible price for building Israel," they wrote. "We understand how priceless it is for us to save lives ourselves," they continue. "We feel obligated to pursue the sacred duty to save a life, which would be realized in the case of Jonathan Pollard."
"We know that the final decision regarding the release of Pollard lies with the President of the United States. However, no matter what the result, Israel will be faced with the question: 'did we exert ourselves fully as was required.'"
The letter comes ahead of a ceremony scheduled for later this month, in which President Barack Obama is expected to present Peres with the Presidential Medal of Freedom in Washington. The prestigious medal is awarded to those who have contributed significantly to the values of justice, freedom, and human rights.
Peres – who pressed Obama to release Pollard in person when the two Presidents met in March; and again in April by phone when Pollard was moved to a prison hospital ward – has already agreed to ask for Pollard's release again in June.
He will also carry a letter from 80 Knesset members imploring Obama to release Pollard to the June meeting.
"After what I went through personally," Esther Wachsman, whose son Nachshon was kidnapped by terrorists in 1994, but killed by them during the rescue operation,  "I would not have accepted a situation where something that could have been done to save my son had not been done."
"I cannot accept that situation for someone else, either," she said.
Ron Kerman, whose daughter Tal was killed in a bus bombing in Haifa, has called on the public to sign a petition from the ATZUM organization [representing families bereaved by terror], and to call Peres' office, to lobby for vigorous action on Pollard's behalf. The petition has received 63,000 signatures to date.
Pollard, a civilian intelligence analyst for the US Navy, has been serving a life sentence since 1987 for one count of conspiracy to deliver national security information to a foreign government.
Pollard told Wolf Blitzer that year that he provided Israel with satellite photography of Palestine Liberation Organization (PLO) headquarters in Tunisia, specific capabilities of Libya's air defenses, and "the pick of U.S. intelligence about Arab and Islamic conventional and unconventional military activity."
Others convicted of the same crime, including those who pass intelligence data to hostile nations, have been given average sentences of 7 years or less in prison.
Israel granted Pollard citizenship in 1995, but denies he was an Israeli agent. In 1998, Israeli officials said Pollard had worked for an "unauthorized rogue operation."
The disparity of Pollard's sentence with those of others convicted of the same crime has turned his lengthy incarceration into an issue for American Jewry.
Jewish and Israeli leaders have been joined by numerous US officials and lawmakers in calling for Pollard's release.