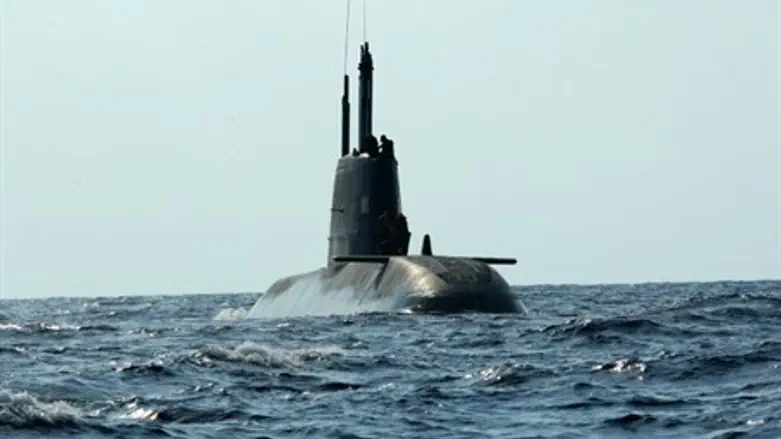 Israeli navy Dolphin-class submarine
Israel news photo: Flash 90
The Israeli Navy is preparing to receive its fourth Dolphin-class submarine by training a larger number of combat submarine crewmen and marine commando forces. The IDF Website quoted a reliable Navy source as saying approximately 10% more submarine crewmen will be trained at first.
Approximately two weeks ago, Israel Navy Submarine Tanin (Crocodile) was launched in the city of Kiel, Germany and officially handed over to the Ministry of Defense and the Israeli Navy.
"The submarine is currently undergoing tests, which only a limited number of officers participate in," an Israeli Navy official told the IDF website. Once the testing phase is complete, a team of Israeli combat soldiers will take command of the submarine in German waters. It will most likely arrive in Israel in 2013 and will join the current IDF submarine fleet. The new submarine is considered to be one of the most advanced and versatile in the world, capable of adapting to a wide variety of missions.
In order to attract more enlistees to the submarine force, the IDF plans to open a submarine youth track as part of the Gadna – a pre-military program that introduces high school aged youth to the military.
The INS Tanin and two additional submarines that have been ordered will double the number of existing Israeli submarines.
Defense Minister Ehud Barak said recently that the new submarine "will amplify the capabilities of the IDF and the State of Israel's strength." In a probable allusion to the conflict with Iran, he added: "The Navy has undergone strategic changes over the past few years that place it at the forefront of the battle over the safety of Israel, as the long arm of the IDF."