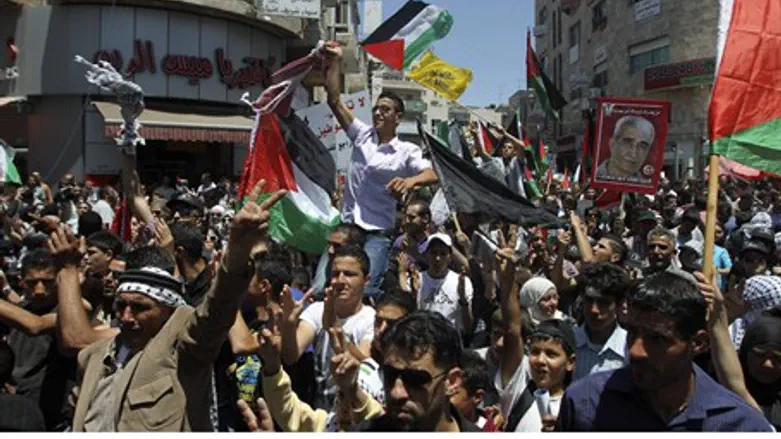 Terrorists glorified in Ramallah
Reuters
Two years after a Ramallah square was named after female terrorist mastermind Dalal Mughrabi, the Palestinian Authority continues to view her as a role model.
Itamar Marcus, director of the Palestinian Media Watch (PMW) research institute, told Arutz Sheva on Wednesday that the PA recently established a number of schools as well as a scout group, all of which were named after Mughrabi.
Dalal Mughrabi led a group of terrorists who in 1978 sailed from Lebanon to Israel to carry out a terror attack in which 37 Israeli civilians were killed.
PMW monitors the PA-based media and translates from Arabic sections of it which more often than not reveal what the PA – often touted as a "partner for peace" with Israel – really thinks about Israel and Jews.
Over the years PMW has more than once shown how the PA glorifies some of the biggest terror masterminds.
"These are their heroes, those who murdered Israelis. And she killed the most Israelis," said Marcus. "To name a Boy Scout group after her and launch two summer camps named after her, sponsored by [PA Prime Minister] Salam Fayyad and also named after Abu Iyad, one of the founders of Fatah and the head of the Black September terrorist organization, is horrifying."
He added that two schools were recently named after Mughrabi and noted, "It is all done under the auspices of [PA Chairman] Abbas. All the PA's universities have groups of female members of Fatah. And those groups are named Dalal's Sisters; she is presented as a role model."
Marcus wondered why those who had been shocked two years ago when the square was named after Mughrabi are not shocked today.
"We've given all the materials to government officials and journalists as well as to members of governments abroad," he said. "Everyone is silent, apparently trying to protect and strengthen the PA. I explained to U.S. Congress members that the money they make available to the PA is used to perpetuate the name of a terrorist. They were all shocked but are not doing anything."