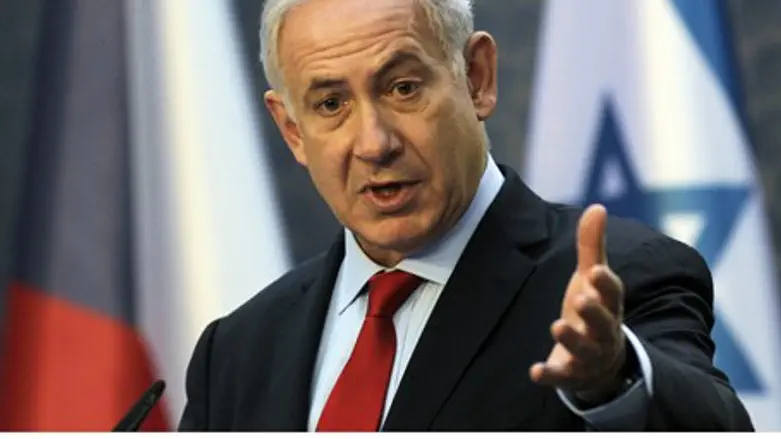 Binyamin Netanyahu
Reuters
TIME Magazine devoted its cover story this week to Prime Minister Binyamin Netanyahu, who was named "King Bibi", in a play on the name of famous blues artist B.B. King.
The article was written by TIME's managing editor Richard Stengel and it profiles Israel's Prime Minister, explaining why he is "the King of Israel".
"Netanyahu is poised to become the longest-serving Israeli Prime Minister since David Ben-Gurion, the founding father of Israel," writes Stengel. "He has no national rival. His approval rating, roughly 50%, is at an all-time high. At a moment when incumbents around the world are being shunted aside, he is triumphant."
Stengel adds that Netanyahu is standing on history's cusp and adds, "The question is whether he is a prisoner of that history or he can write a new narrative."
"Like his father," writes Stengel, "he sees Jewish history as a succession of holocausts. Like his father, he has an almost mystical belief in the abiding power of anti-Semitism, as though it were more biological than cultural."
Stengel wonders whether Netanyahu will choose to make historical decisions, on both Iran and the peace process, now that he has a surer command over the Knesset with the unity deal that brought Kadima into the government.
He notes that Netanyahu has "…a governing coalition that will not leak or collapse if he opens negotiations [with the Palestinian Authority]. He will no longer have to look over his shoulder. He will not have to call elections at the drop of a hat. He has not had that before, and it gives him room to maneuver and room to compromise. 'Now he is the emperor … he can do anything,' [PA Chairman Mahmoud Abbas] said last week. 'If I were him, I would do it now, now, now.'"
Netanyahu himself, who is currently on a visit to the Czech Republic, addressed the TIME cover in a press conference on Thursday and said, "Israel is a democracy and not a monarchy, and I do not forget that for even a moment."
In April, TIME named Netanyahu one of the 100 most influential people in the world.
Eric Cantor, the majority leader in the U.S. House of Representatives, wrote in a short article on TIME's website that Netanyahu "is one of these iconic Israelis, a strong, determined leader who has excelled during a lifetime of service to the state of Israel.
"Bibi's accomplishments and service as a soldier, a diplomat, an economic reformer who took on the difficult and politically perilous task of challenging the status quo, and a two-time Prime Minister rank him among the world's great leaders," wrote Cantor.