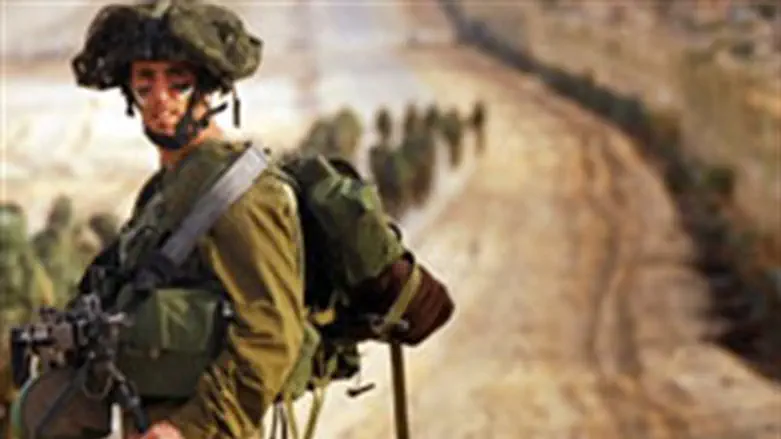 IDF Soldier
Israel news photo: IDF
The Bethlehem-based Maan News Agency reported Thursday that an IDF fire injured seven in northern Gaza.
Maan claimed the IDF was firing at farmers in Beit Lehia.
Two of the wounded reportedly sustained serious wounds and were taken to the Shifa Hospital in Gaza.
However, the IDF spokesperson's office denied forces had "engaged targets in Gaza" saying it was "unaware of any casualties."
The spokesman did say, however, said that a group of Gazans in a private vehicle approached a patrol unit near the defunct Karni crossing, which lies east of Gaza City.
Despite orders from IDF soldiers for the car, which was speeding towards the border, to slow, the driver continued at pace.
Sources in the IDF told Israel Radio that soldiers fired a number of shots in the air.
According to Army Radio, the IDF identified two terrorists among the group of Gazans, who approached the border twice in what the IDF believes was an attempt to lay roadside bombs.
The IDF unit involved in the incident, according to reports, frequently operates inside the Gaza security fence.
The fields of northern Gaza are routinely used by terrorist gangs to fire rockets at Israel's southern communities.
IDF fire in these cases invariably targets confirmed rocket launching teams who pose an immediate threat.
However, terrorists frequently use the local civilian population as cover, and fire rockets from population centers as a matter of course.
This has led IDF officials to charge Hamas and its terror confederates are using Gaza's non-combatants as "human shields."