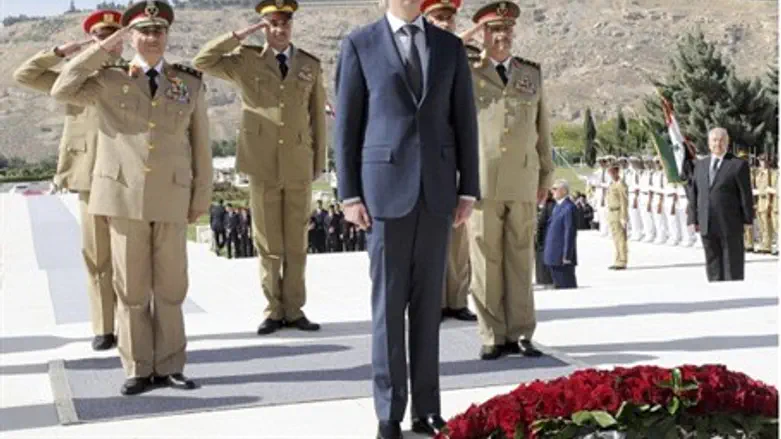 Bashar Assad
Reuters
In his first interview since December, Syrian President Bashar Assad insisted his regime is fighting back against foreign mercenaries who want to overthrow him and not innocent Syrians aspiring for democracy.
The interview with Russian TV, recorded on Tuesday and aired on Wednesday, showed that Assad is still standing his ground despite widespread international condemnation over his deadly crackdown on dissent.
"There are foreign mercenaries, some of them still alive," Assad was quoted by The Associated Press as having said in the interview on Russian state news channel Rossiya-24. "They are being detained and we are preparing to show them to the world."
Assad also cautioned against meddling in Syria, warning neighboring nations that have served as transit points for weapons being smuggled into the country that "if you sow chaos in Syria you may be infected by it yourself."
Rebels and anti-regime activists have accused Syrian forces of mining many of the smuggling routes where weapons flow into Syria, mainly from neighboring Turkey and Lebanon.
Assad still has a firm grip on power in Syria, some 14 months into a revolt that has torn at the country's fabric and threatened to undermine stability in the Middle East.
The UN estimated in March that the violence has killed more than 9,000 people. A UN observer team with more than 200 members has done little to quell the bloodshed, and some even have been caught up in the violence themselves.
On Tuesday, members of a team of UN observers were rescued by rebel fighters from the Syrian Free Army (SFA) after they came under fire in Khan Sheikhoun.
The observers reportedly came under fire when forces loyal to Assad opened fire on a funeral procession in the town.
Assad has denied that there is a popular will behind the uprising, saying foreign extremists and terrorists are driving the revolt. He acknowledged that there are genuine calls for reform and pointed to recent parliamentary elections as the cornerstone of his reform agenda.
The elections were the first under a new constitution, adopted three months ago, that allows political parties to compete with Assad's ruling Baath party. The opposition boycotted the May 7 polls, saying they were orchestrated by the regime to strengthen Assad's grip on power.
"To call for boycotting the elections, that's the equivalent of calling for a boycott of the people," Assad said in the interview, according to AP. "And how can you boycott the people of whom you consider yourself the representative? So I don't think that they have any kind of weight or significance within Syria."
Assad added that Kofi Annan, the UN and Arab League envoy to Syria, is expected to visit Syria this month and said that he intends to complain to Annan about what he called one-sided criticism of Syria.
The West "talks about violence, but violence from the side of the government, not a word about terrorists," Assad said. "We are waiting for this, as we have before. Mr. Annan will come to Syria this month, and I will ask him about this matter."
The Washington Post reported on Wednesday that the Obama administration is coordinating with Saudi Arabia and Qatar in arming Syrian rebels. Syria's Muslim Brotherhood also is channeling aid to the opposition, the report said.
According to the report, the State Department previously has changed its position and has said that while Washington will not directly arm the rebels, it will cooperate with those who do.
The Gulf States have shipped weapons, including anti-tank weaponry, to help the rebels fight back against Assad, added the report.