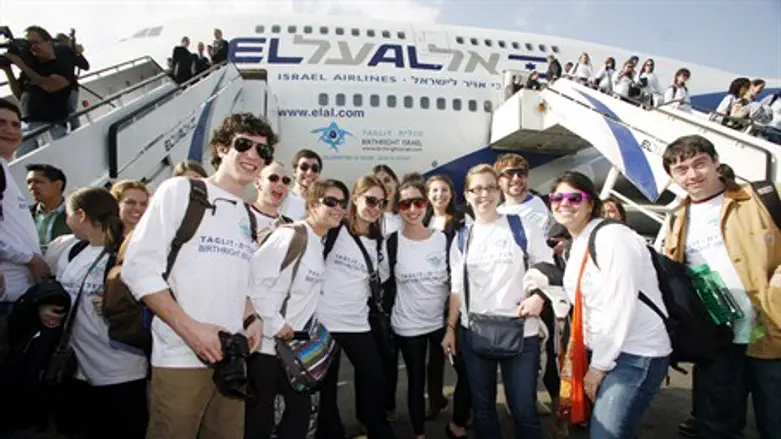 Birthright group arrives in Israel
Israel news photo: Birthright PR
The Bible Lands Museum is launching on Wednesday a new Jewish Heritage Tour created for Birthright-Taglit that shows the Bible as Israel's true birthright.
The Museum is gearing up for 1,200 Birthright visitors from North America, and the tour is part of the Museum's Birthright Israel Education Fair.
"Understanding the legacy of the Jewish people in modern Israel is inseparable from understanding the importance of our biblical history – our birthright," says Amanda Weiss, director of the Bible Lands Museum Jerusalem.
"No site in Israel better presents the roots of our heritage from a universal and regional perspective," she adds. 
The tour presents a fast-paced overview of the Bible Lands Museum, from the footsteps of our ancestors in ancient Mesopotamia –  the birthplace of Abraham – through Diaspora Jewish life in ancient Babylon, to Second Temple Jerusalem.
The Birthright visitors, aged 18-26 and who never have been to Israel in their lives, will encounter artifacts from the daily life and religious beliefs at the time of Abraham to understand their impact on the Jewish people today.  
"It is a story of Biblical proportions…and it is our story," Weiss says.
The Bible Lands Museum Jerusalem was founded by the late Dr. Elie Borowski, whose motto, "The future of mankind has its roots in the past, and only through understanding our history can we build a better future," remains timeless.