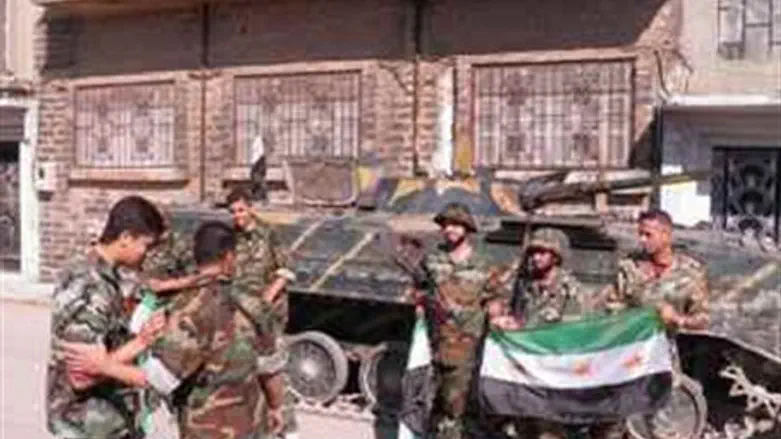 Syrian defectors join the Free Syrian Army
Reuters
The Obama administration is coordinating with Saudi Arabia and Qatar in arming Syrian rebels. Syria's Muslim Brotherhood also is channeling aid to the opposition, the Washington Post reported Wednesday.
The State Department previously has changed its position and has said that while Washington will not directly arm the rebels, it will cooperate with those who do. "We are increasing our nonlethal assistance to the Syrian opposition, and we continue to coordinate our efforts with friends and allies in the region and beyond in order to have the biggest impact on what we are collectively doing," a State Department official told the newspaper.
The Gulf States have shipped weapons, including anti-tank weaponry, to help the rebels fight back against Syrian President Bashar Assad, whose crushing of the year-long rebellion has drawn him closer to Iran. The United States, Saudi Arabia and Israel all consider Iran a growing threat to the entire region because of its assumed nuclear weapons program and its stated desire to establish an Islamic empire of Muslim countries.
The United States has contacts with the rebel's military leaders and is sharing information with Saudi Arabia and other Gulf nations, and "many officials now consider an expanding military confrontation to be inevitable," the Washington Post wrote.
It also reported that Syria's Muslim Brotherhood is using its resources in Saudi Arabia and Qatar to buy weapons for the rebels.
Assad last month appeared to be on his way to annihilate the opposition with continued large-scale bombings amidst an official but non-effective ceasefire, but the influx of arms to rebels has helped them attack  and even overrun several government positions.
At least 23 Syrian soldiers were killed in a clash on Monday, and suicide attacks have killed government and intelligence personnel.
The United States has emphasized that no American security advisers or soldiers are operating in Syria, but American intelligence is working closely with the Gulf nations.