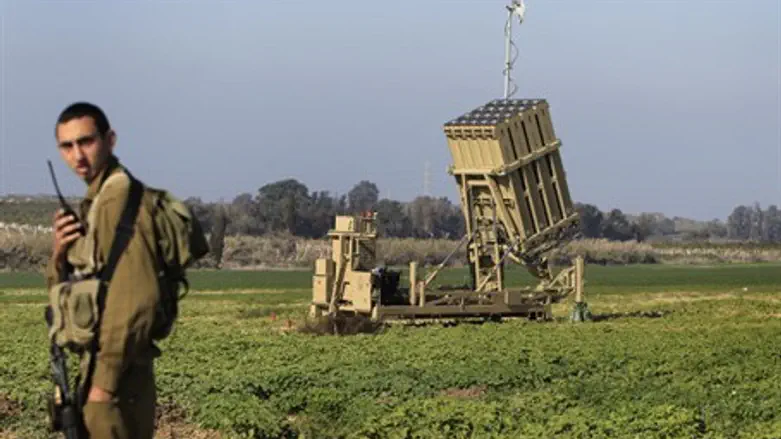 Iron Dome system
Israel news photo: Flash 90
The International Young Israel Movement (IYIM) - Israel Region and the National Council of Young Israel (NCYI) facilitated on Tuesday the dedication of a Torah scroll to the IDF. The scroll was dedicated to the newest units in the IDF, the Iron Dome anti-missile unit that is under the Israel Air Force command.
The highly acclaimed Iron Dome technology was a reaction to the thousands of missiles that have rained down on Israeli citizens from Hamas-controlled Gaza. The system intercepted 90 percent of missile attacks on urban centers during the recent escalation in rocket attacks from Gaza towards Israel.
The joyous dedication ceremony took place on a base in Central Israel on Tuesday in the presence of the outgoing Chief Rabbi of the Israel Air Force, the IAF's Acting Chief Rabbi Rav David Levin, a Commander of the Iron Dome unit, IYIM Israel President Ceec Harrishburg, IYIM Executive Director Daniel Meyer, Rabbi Eitan Perez of the Iron Dome unit, as well as officers and soldiers. The singing and dancing reached a peak as the Sefer Torah was placed into the empty Aron Hakodesh.
The scroll was dedicated by Mr. David and Mrs. Chana Walles, family and friends in memory of all the brave IDF soldiers who have sacrificed their lives in the defense of Israel on the occasion of the 25th anniversary of their business, Eddies Kosher Travels.
Last week, a U.S. House panel voted to allocate $1 billion for the Iron Dome missile defense system. Each of the intercepting missiles that is launched to knock out an incoming Grad missile Gaza costs $50,000.