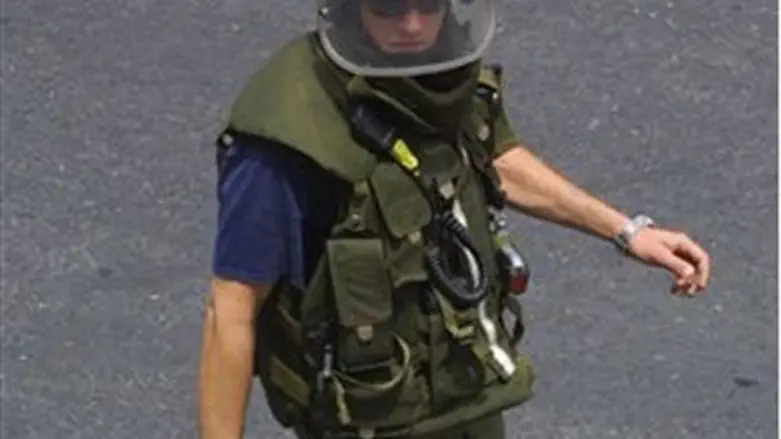 Bomb squad sapper (file).
Israel news photo: Flash 90
Two Arabs from Palestinian Authority enclaves were arrested trying to smuggle four pipe bombs, an improvised gun, and a large amount of ammunition into Israel on Tuesday.
Two Arab men in their 20s aroused the suspicion of Border Police officers at the Tapuach Junction, who detained and searched the pair.
Upon finding the weapons in their bags, Border Police called sappers were called to dispose of the devices. The pair were arrested and handed over to security offcials for questioning.
Such arrests have become commonplace as northern Samaria increasingly becomes a hub for the Hamas and Islamic Jihad terror organizations.
January 8: Border Police arrest two men carrying 12 pipe bombs and a combat knife at a checkpoint near Shechem in northern Samaria.
April 11: IDF forces stopped a would-be bomber over Passover at a checkpoint east of Shechem, in northern Samaria. The terrorist was carrying improvised explosive devices, three knives and 50 bullets.
April 21: 2 Palestinian Authority teens carrying bombs and guns were nabbed by Israeli forces. They were apprehended near Tapuach Junction with 5 pipe bombs, a gun, and ammo.
April 24: IDF forces uncovered 4 improvised bombs on two Arabs at a crossing north of Jericho. The bombs were found in the men's bags and detonated safely.
April 28: IDF forces nabbed 2 terrorists with 4 pipe bombs as they were trying to smuggle explosives through a checkpoint in northern Samaria.
May 7: Israeli forces arrested 17-year-old Palestinian for carrying 3 pipe bombs. The teen was detained near Tapuach junction.
Last August the GSS cracked a network of Hamas terror cells in Judea and Samaria, each of which was in various stages of planning for attacks on Israelis.
One of the cells was behind the 23 March 2011 bus bombing in central Jerusalem that killed 1 and wounded 47. 
Also, in late January 2012, the GSS and Israel Police foiled a shooting attack planned by an Israeli Arab in collaboration with an Islamic Jihad terror cell from Tulkarem in northern Samaria.