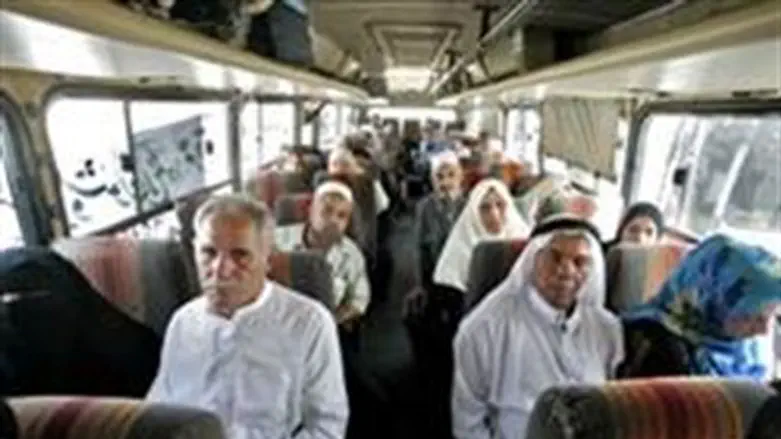 Arab passengers (illustrative)
Flash 90
Soldiers, Border Police, and other security forces work around the clock to fight illegal Palestinian Authority entry to Israel. At the same time, however, PA Arabs are able to travel to the heart of central Israel without the need to go through any security checks, simply by boarding a bus.

Malkiel Feder of Har Bracha in Samaria was traveling to the city of Ramat Gan on a bus run by the Afikim company when he noticed that PA Arabs were getting on and off freely. At first he assumed they were Israeli Arabs from Kfar Kassem, but as the bus continued he realized that they were from PA-controlled Samaria villages.

At no point were the PA passengers' identity cards or bags checked, he said. Some openly carried sharp tools, while others had large closed sacks.

Feder spoke to friends and found that many others had seen the same thing. One driver checked ID cards and allowed only Israeli citizens onto the bus, but several others did not check IDs at all.
He turned to the bus company, and was told that while managers agree that allowing PA passengers to travel with no security check poses a risk, the drivers cannot take responsibility for security as they must focus on driving. 

After hearing Feder's story, Arutz Sheva attempted to clarify the matter with Afikim. The company said: "The Afikim company is obligated to abide by the rules set by the Transportation Ministry, among them Article 434, which requires drivers to provide transport to any passenger who purchases a ticket. There cannot be discrimination."

"There is a security issue here, and we are aware of the problem. The manager of Afikim is working with the relevant parties – the army, police, Transportation Ministry and others – to raise the problem and find some solution. Drivers are unable to handle the security problem."

As a short-term solution, Afikim buses to and from Samaria will undergo random checks, Afikim representatives said. The company hopes a long-term solution will be found, they added.

The company's temporary fix is far from sufficient, Feder told Arutz Sheva. Even the random security checks are only conducted between Samaria and central Israel, and not on the way back, he pointed out – meaning there is no security of any kind for the passengers themselves. "They could get on with an axe and do what they want. The checkpoint is only in Oranit, but what happens inside the bus before reaching the checkpoint?"