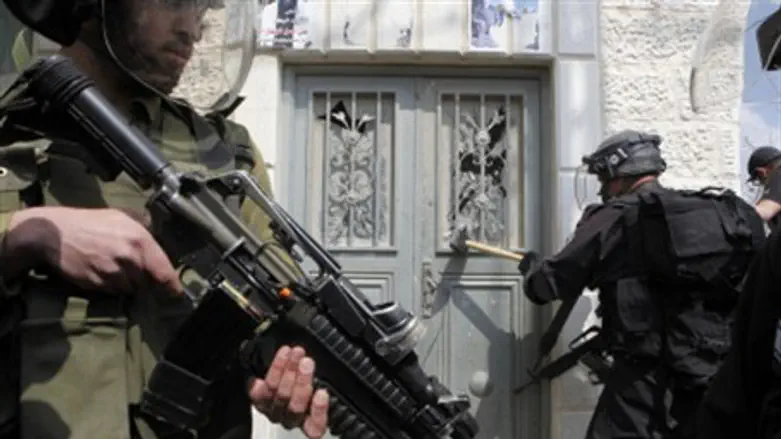 Terror arrest (illustration)
Israel news photo: Flash 90
Mainstream media's habit of ignoring terrorist attacks has been confirmed by the IDF, which details nine attacks, most of which were virtually unreported except by Arutz Sheva.
"Very little of what actually goes on in Israel is reported by mainstream media.  A lot of incidents are never published, though they're very significant," the IDF reported on its blog. The IDF did not mention any specific media outlet.
It detailed nine terrorist attacks that remain unknown to most Israelis and foreigners who do not read Arutz Sheva. When mainstream media report terrorist attacks, the perpetrators usually are described as "militants" or "Palestinian Authority citizens."
The cover-up seems to be part of a general policy of local and foreign media to generate a positive image of the Palestinian Authority and a negative picture of Prime Minister Binyamin Netanyahu., thereby encouraging international pressure on Israel to meet PA Chairman Mahmoud Abbas' preconditions for negotiations, including demands that Israel stop activities in favor of a Jewish presence in Judea and Samaria and parts of Jerusalem.
On January 2, the IDF captured two Palestinian terrorists carrying illegal guns. The two were taken in for investigation near Shechem while the M-16 rifle, an Uzi, and ammunition were confiscated by security forces.
Two weeks later, the IDF uncovered a hunting rifle and a shotgun in an Arab's house in a village near Hebron. The terrorist was known to the police on previous charges of criminal violence.
In February, a powerful explosive device was uncovered along the Israeli-Egyptian border. Israeli forces saw a man hurling a suspicious bag and immediately fleeing the scene. The explosive was detonated in a controlled manner. Some mainstream media reported the incident, which apparently was aimed at carrying out a huge attack on an urban center,
Four terrorist incidents went almost totally unreported in April, except on Arutz Sheva.  IDF forces stopped a would-be bomber over Passover at a checkpoint east of Shechem, in northern Samaria and found him carrying improvised explosive devices, three knives and 50 bullets.
On April 21, two teenage Palestinian Authority terrorists carrying bombs and guns were apprehended near the Tapuach junction in Samaria. Three days later, soldiers uncovered four improvised bombs on two PA terrorists at a crossing north of Jericho.  .
A week later, the army caught two terrorists with four pipe bombs as they were trying to smuggle explosives through a checkpoint in northern Samaria.
Last week, Israeli forces arrested a 17-year-old Palestinian Authority terrorist carrying three pipe bombs and two others carrying two explosive devices and three prepped firebombs.