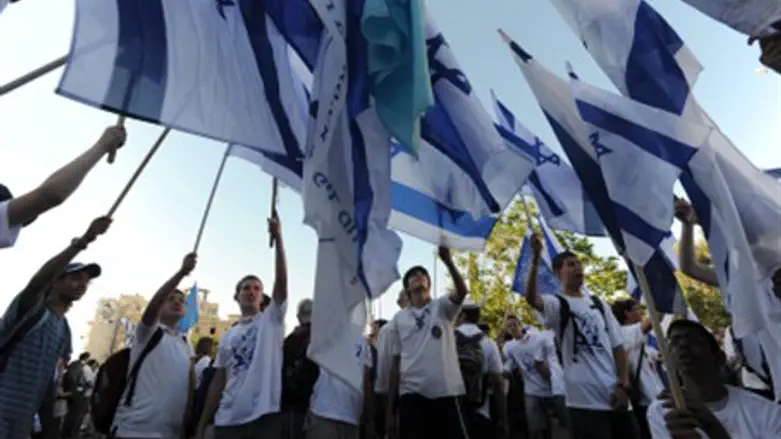 Flagdance (file)
Israel news photo: Flash 90
The police gave official permission Wednesday to hold the annual Flagdance – "Rikudgalim" – march through Jerusalem on Jerusalem Day, reversing a previous decision to prevent the march from passing through its traditional route.
The police relented after Bnei Akiva Yeshivas Center Chairman Rav Chaim Druckman and MK Uri Ariel met with Jerusalem District Police Chief Maj. Gen. Niso Shacham and asked him to reconsider the decision to ban or reroute the march. Rav Druckman personally promised that he would act to prevent confrontations between the marchers and residents of the Muslim Quarter.
The march will pass from King George Street into the Old City, through Shechem Gate and Yaffo Gate.
The organizers had planned to petition the High Court against the earlier police decision against the march, and threatened to hold a huge protest demonstration outside the police headquarters in Jerusalem instead of the march. These plans were cancelled when the police relented.
Organizers said that they expect participants in the march, especially youth, to avoid confrontations and abusive remarks that "only show weakness." Bnei Akiva Director Danny Hirschberg sent an urgent letter to the movement's counselors on Thursday, asking them not to allow marchers to behave in a disorderly fashion, as some did last year.
About 35 people were arrested last year following confrontations between the marchers, and Arabs and leftists who had hurled abuse at them.
Shirel Bleicher, one of the organizers of the traditional march, noted that about 100,000 people take part in the event and the number is growing. The Flagdance march is more than 30 years old.