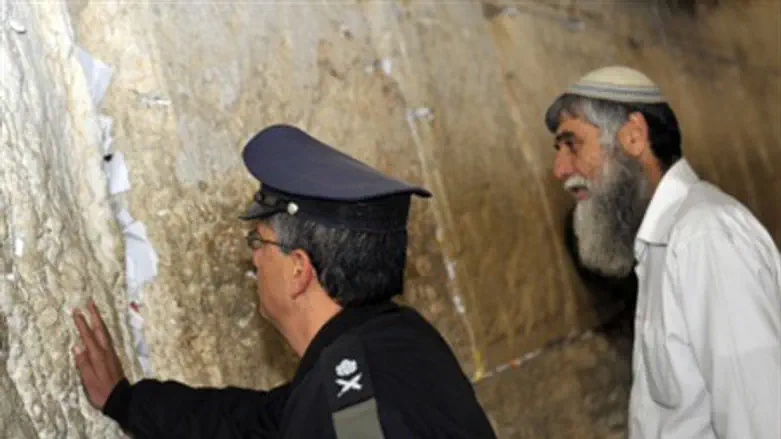 Maj. Gen. Eshel at Kotel
Israel news photo: Flash 90
With an Israeli strike on Iranian nuclear facilities looming, the IAF has a new commander: Major General Amir Eshel.
Eshel was officially appointed Thursday to replace Maj. Gen. Ido Nechushtan, in a ceremony at the Chief of Staff's bureau in Tel Aviv's Rabin (Hakirya) Camp. The ceremony was attended by Defense Minister Ehud Barak, IDF Chief of Staff Lt. Gen. Benny Gantz, members of the General Staff Forum and their family members.  
Nechushtan, who is retiring from the IDF after 37 years of service, said: The IAF is a body that operates every day, every moment, 365 days a year, from Dan to Eilat and all over the world, seeking at all moments to defend Israel."
Defense Minister Barak bade farewell to Nechushtan, noting that "over the last two generations, the IAF is Israel's main decisive arm and the headstone of its deterrent capability."
Lt. Gen Gantz said: "We have the best air force in the world. A heavy, meaningful and immediate strategic burden rests on the soldier's shoulders."
Maj. Gen. Eshel thanked his superiors for the appointment and said: "Major General Ido Nechushtan leaves behind a strong and high quality air force with many processes that bear his signature. We face meaningful tests and we are ready for every mission we will be asked to perform."
Eshel has logged over 5,500 flight hours in a variety of jets and helicopters, including the F-15, F-16, Apache and Cobra. He was head of the Planning Department from 2008 to 2012. He has degrees from Auburn University in Alabama and Haifa University. He is married with three children.