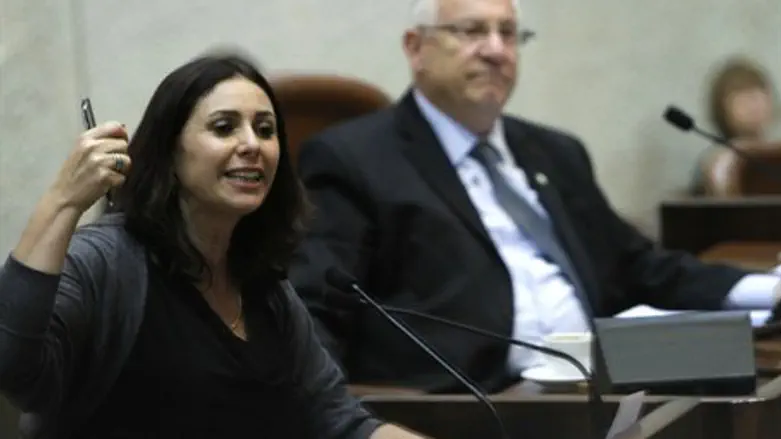 Miri Regev
פלאש 90
MK Miri Regev (Likud) on Wednesday said the Israeli public expects the government to annex all Israeli land and Jewish communities in Judea and Samaria.
"The national camp, which is the majority of the Israeli public, expects the government to apply Israeli sovereignty over all Israeli land in Judea and Samaria, and Jerusalem" Regev said.
"These areas include the Jordan Valley, Gush Etzion, the north-end of the Dead Sea, Ariel, Ma'aleh Adumim and all Jewish communities, in about 350,000 Israelis live," she explained.
Regev added," Israel has extended Israeli sovereignty to all of Jerusalem's neighborhoods, the Western Wall, and the Golan Heights. Even though the world did not like it, the Israeli public sees these places as part of its homeland and country."
She also addressed the difficulty of legislating a solution to the spate of demolition orders targeting Jewish communities due to a ruling by the Supreme Court under chief justice Dorit Benisch, which declared all non-state lands in Yesha presumptively 'Arab lands.'
"We ought to act the same way [as we have in Jerusalem] with all Israeli holdings in Judea and Samaria," she said. "Doing so would extend Israeli law to all of these areas, and would end the question of eviction and demolition for Jewish families in threatened neighborhoods."
Regev explained, "Then we could ensure that petitioners are forced to provide evidence of ownership in court, and when they succeed they are given financial compensation rather than eviction."
"We must act to apply Israeli law in Judea and Samaria, the laws for Jews in Judea and Samaria should be the same as those for Jews in Tel Aviv and elsewhere in Israel," she said.