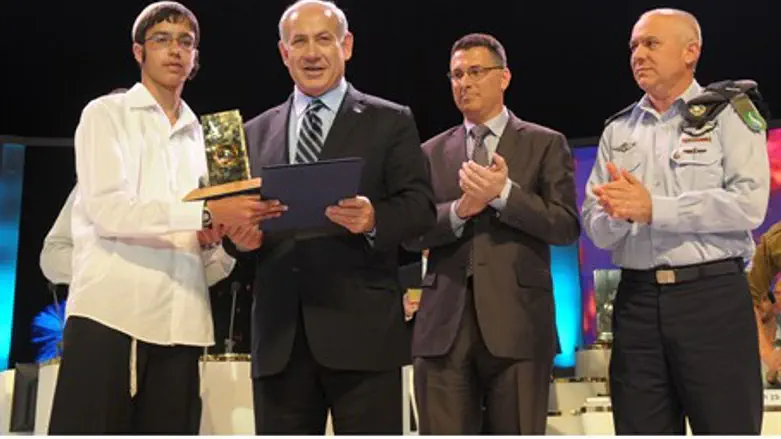 Netanyahu Presents the Trophy
מוקי שוורץ
The 49th International Bible Quiz for Jewish youth – one of Independence Day's noble traditions – was held on Thursday morning at the Jerusalem Theater.
Israel's Elehanan Bloch - a student from the AMIT Yeshiva High School of Yeruhuam - was this year's winner. 
Elhanan's parents, Ido and Orit, came to Yeruham within the Bnei Akiva movement and are aiding in establishing a synagogue and college for girls in Netivot.
Ido is an electrical engineer and his mother Orit is a chartered accountant. Elhanan is the fifth of  seven brothers and sisters. 
Rosh Yeshiva, Rabbi Yair Jacoby described Elhanan, 17, as a studious boy who is loved by his friends, he loves to learn, and not just the Bible. 
Akiva Abromovitz of Brooklyn placed second.
Prime Minister Binyamin Netanyahu and Minister of Education Gideon Saar were in attendance at the quiz. As has become tradition, Avshalom Kor served as master of ceremonies.
Saar spoke in advance of the International Youth Bible Quiz. "This exciting event always reminds us that we are the People of the Book. We all share the same Heritage, the same fate and destiny."
The Prime Minister blessed Elhanan that he should "go from strength to strength," and remembered his relative, Shmuel Ben Artzi, who recently passed away.
"He followed his contest avidly every year. For thirty years he knew the answer to every question," He said.
Netanyahu – who asked the customary 'prime minister's question' – arrived at the theater after taking part in a ceremony at the President's Residence where Shimon Peres gave out awards for excellence to 120 troops.
Netanyahu's own son came in third place in the bible contest two years ago.
Young people from around the world joined for Israeli students to participate in the quiz.
Two students from South Africa and one from Australia are also competing this year. Both Europe and the Americas also sent youth delegations to Israel to compete in the quiz, as well.
The European youth were from rom Ukraine, Ireland, England, Belarus, Netherlands, Hungary, Turkey, Lithuania, Poland, France, Romania and Switzerland.
While the students from the Americas came from the United States, Argentina, Brazil, Mexico, Panama, Colombia, Costa Rica and Canada.
The winner of the international competition receives a full scholarship for undergraduate studies at Bar Ilan University. The annual contest is organized by the IDF Chief Education Officer, the IDF Rabbinate, the Defense Ministry, Education Ministry, the Jewish Agency and the JNF.
The theme of this year's contest is social justice.