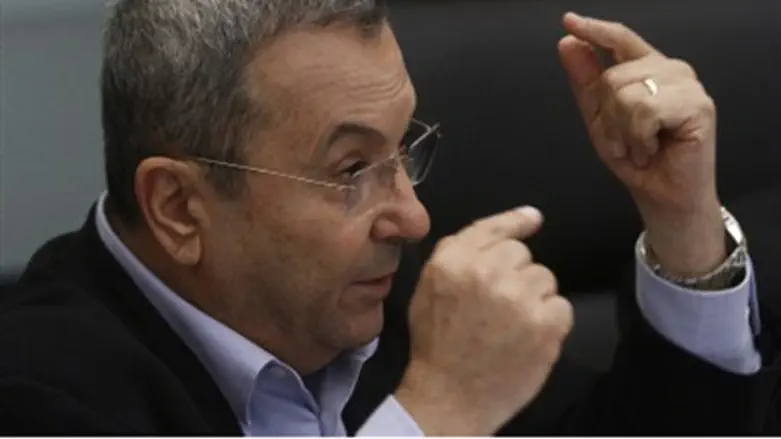 Ehud Barak
Israel news photo: Flash 90
Defense Minister Ehud Barak rejected on Wednesday Foreign Minister Avigdor Lieberman's claims that Egypt presents more of a security danger to Israel than Iran.
Earlier this week, Lieberman told Prime Minister Binyamin Netanyahu that Israel has to "be prepared for all possibilities," and suggested that the IDF create three or four southern divisions in the wake of a social and economic deterioration in Egypt and the increasing number of Egyptian troops in the Sinai Peninsula.
Lieberman pointed out to the Prime Minister that Egypt is the largest Arab nation that has a common border with Israel and also has a peace treaty with it.
However, in an Independence Day interview with the Globes financial newspaper, Barak took issue with Liberman's assertion and said, "The Iranian threat is a threat with existential potential. At the moment this is not the case and we must work in every way to halt the nuclear weapon process by the Iranian military. It is clear that we would rather see the entire world coping with this and we say that all options are on the table, and we mean that."
Barak added, "Israel is satisfied that the sanctions will stop Iran and this year will be decisive. We must remember that in any case as we celebrate the country's 64th anniversary that Israel is the strongest country between Tripoli in Libya and Tehran and it will continue to be so for the foreseeable future."
Addressing the situation in Egypt and the country's decision to cancel the gas supply agreement with Israel, Barak said the cancellation must bring about the speeding up of the gas supply from the Tamar gas field, dismissing the cancellation as a commercial dispute, as Netanyahu had done as well.
"Regarding Egypt we have influence there," he said. "We are not a commentator sitting in the stadium, we are a player on the pitch and whatever we say or do not say has importance. We must find a way both in words and deeds, so that matters in Egypt will move in the direction of responsibility. We have an interest in creating a chance that that will be their policy in practice, despite all the problems that we see, and there are problems, touch wood, in Sinai. But this is not a good topic for public discourse."
Barak also rejected claims by senior cabinet members that talk of attacking Iran by him and Netanyahu is merely for political reasons, and said, "We operate responsibly. There are all sorts of people in politics who at the end of the day don't have the final say, and they can amuse themselves with words like that. The prime minister and I have no choice but to look each other in the eye and take responsibility."

Asked whether he and Netanyahu are friends, Barak replied, "We work in exceptional harmony. This stems from our roles, and from the fact that we feel the responsibility. We have known each other for many years and we have a history. We were political rivals but we are of an age and in a place faced by challenges, where we are obligated to put almost everything aside, and work with great responsibility."