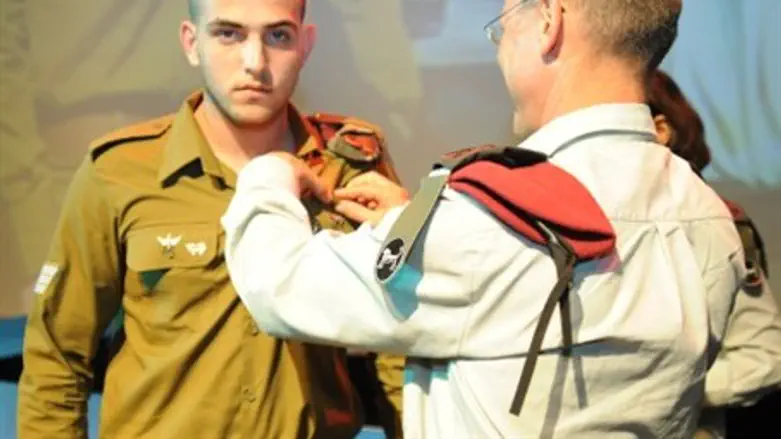 Sgt. Weingarten receives citation
IDF Spokesman
Maj. Gen. Nitzan Alon, Head of IDF Central Command, awarded a citation Sunday to Sgt. Gal Weingarten of the Kfir Brigade's Lavi Battalion for keeping his cool and acting courageously when he was attacked by Arab terrorists.
On March 8, Weingarten took part in a raid against terror groups in Hevron. The Lavi Battalion was deployed against a Hamas target in Yatta, in the southern Hevron Hills. In the course of this operation, two terrorists attacked the IDF team providing security for the rest of the unit, with the intention of murdering a soldier.
Sgt. Weingarten and his team were located in the street next to the main target of the IDF operation.
Gal understood that he had been attacked at close range and that he must open fire. His throat was slashed and he was in serious condition, yet he assumed the position for firing and hit the terrorists accurately.
The text of the citation noted that Sgt. Weingarten "showed courage, level-headedness, steadfastness in his mission and a striving for victory that are an example for every soldier in the IDF."
At the time of the incident, the IDF said that the attackers had tried to stop the arrest of Khaled Mahamrah, who was released a few months ago with more than 1,000 other terrorists and security prisoners in exchange for Gilad Shalit. IDF Spokesman Yoav Mordechai said that Mahamrah dealt in money used by terror organizations.
The alleged stabber was identified as Zakaria Abu-Aram. His weapon was a sharp paper cutter.