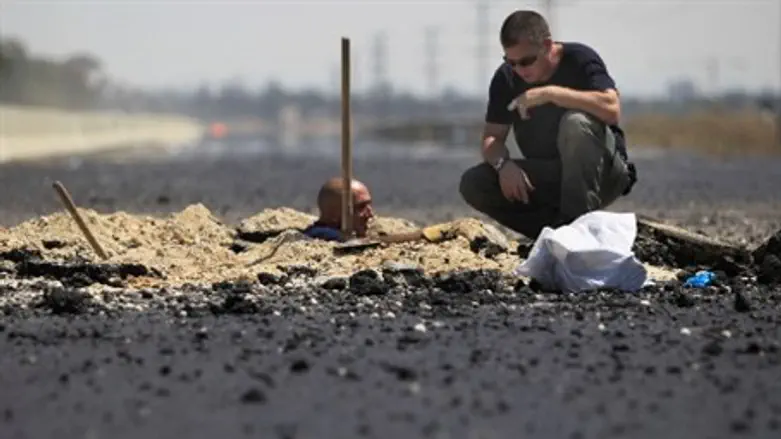 Rocket Impact Site (Archive)
Arutz Sheva photo: Flash 90
Terrorists in Gaza fired a pair of rockets into southern Israel on Monday afternoon. One fell in the Ashkelon Regional Council, while the other fell in the Shar Hanegev Regional Council.

Neither caused physical injuries or property damage.
"There was a rocket that was fired... No damage or injuries were caused," Israel Police spokesman Micky Rosenfeld said.
The IDF spokesman's office confirmed a rocket had been fired. No counter-strike has been reported.
In March, terror gangs in Gaza fired over 200 rockets into Israel over a period of four days following the targeted killing of Popular Resistance Committee leader Zuhir Musa Ahmed Qaisi and his deputy, Mahmoud Ahmed Mahmoud Hanani.
Security officials say Qaisi and Hanani were targeted after it was learned they were planning a repeat attack on southern Israel similar to the cross-border attack from Sinai in August 2011 that killed eight Israelis.
The Israeli counter-strikes targeting rocket launching cells operating from densley populated civilian areas in Gaza killed 25, of whom at least 21 were terrorists.
IDF commanders charged the terrorists were seeking to use civilians as "human shields."
Critics say Israel's aristrikes-for-rockets strategic posture vis-a-vis Gaza has only served to perpetuate the poor security situation endured by Israel's southern communities.
Gaza terrorists have fired over 10,000 rockets and mortar shells into Israel since 2001. In January, two such mortar shells contained white phosphorous.
Over 1 million Israelis live within range of Gaza's rockets.