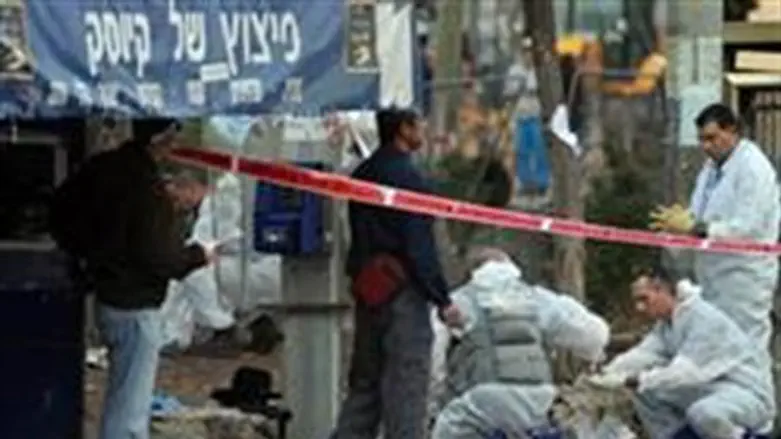 A terror attack in Jerusalem
Courtesy MDA
In recognition of the impending Memorial Day (Yom Hazikaron) ceremonies set to take place Wednesday, the National Insurance Institute (Bituach Leumi, NII) released the statistics on the number of Israelis who have been killed in terror attacks.
Since January 1, 1950, a total of 2,357 Israelis have been killed in terrorist attacks. An additional 120 foreign residents have been killed in such attacks as well, the NII said.
Since Independence Day 2011, 15 Israelis were killed in terror attacks and 90 were injured.
Since the beginning of the second intifada (also known as the Oslo War) in 2000, 996 Israelis have been killed in terror attacks.
Those killed in the attacks have left behind 2,822 orphans, with 84 orphaned from both parents, the statistics said. The victims also left behind 839 widows and widowers, as well as 1,063 mothers and fathers.
NII chairman Mor Yosef said that the organization sees the care and recuperation of victims of terror attacks as a paramount part of its mission. He added that the Knesset had recently passed a bill that greatly increases the amount of compensation given to survivors of victims of terror attacks.
An official ceremony will be held for victims of terror attacks on Wednesday – the third Memorial Day on which the ceremony will be held since the Knesset agreed to families' requests to have terror victims remembered on the day set aside as IDF Memorial Day.
A special memorial service will be held Tuesday evening outside the Knesset, to be attended by some 3,500 people. The official service for terror victims will be held at 1 PM on Mt. Herzl, and will be attended by the Prime Minister, President, Knesset Speaker, and High Court President.