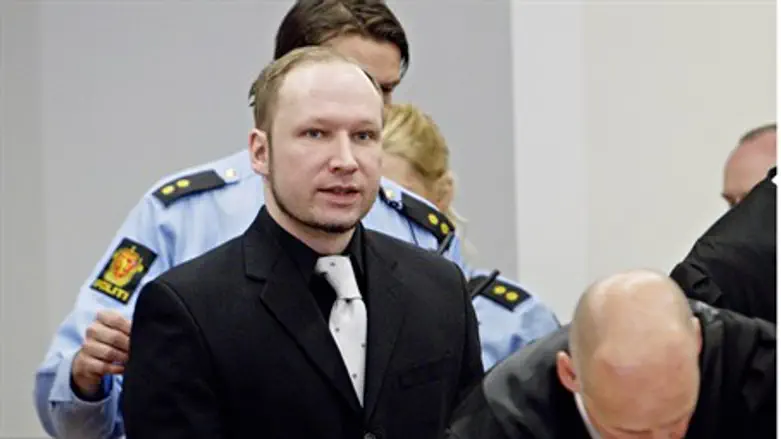 Anders Berhing Breivik
Retuers
Norwegian mass murderer Anders Behring Breivik shocked an Oslo courtroom Friday as he calmly described hunting down teenagers on an island summer camp last July.
Earlier, attendees at the trial were warned that Friday would likely the "the hardest day" yet.
As his words rolled out, survivors and victims' relatives of the July 22 massacre hugged and sobbed, trying to comfort each other, The Associated Press reported.
According to the report, the 33-year-old Norwegian left out no detail from his rampage, explaining how he shot panicked youths at point-blank range. 69 people, mostly teenagers, were killed on Utoya island and others only survived by diving into chilly waters to escape.
Breivik said he did not anticipate his victims' reactions. "Some of them are completely paralyzed. They cannot run. They stand totally still. This is something they never show on TV," he said. "It was very strange."
Looking tense but focused, Breivik spoke calmly about the shooting rampage, beginning with the moment he took a small ferry to Utoya, an island in a lake outside Oslo. He was disguised as a policeman, carrying a rifle and a handgun. He also said he brought drinking water because he knew he would get a dry throat from the stress of killing people.
Breivik's first two victims were Monica Boesei, a camp organizer, and off-duty police officer Trond Berntsen, a security guard.
"My whole body tried to revolt when I took the weapon in my hand. There were 100 voices in my head saying 'Don't do it, don't do it,'" Breivik was quoted by AP as having said.

He said he then pointed his gun at Berntsen's head and pulled the trigger. He shot Boesei as she tried to run away. Then as they lay on the ground, he shot them both twice in the head.

Breivik said the first shot was "extremely difficult," but he then entered a "fight-and-flight modus" that made it easier to continue the killing spree.

Breivik said he couldn't remember large chunks of the approximately 90 minutes he spent on the island before surrendering to police commandos. Still, he recalled some of the shootings in great detail, including inside a cafe where he mowed down young victims as they pleaded for their lives.

He said some teenagers were frozen in panic, unable to move even when Breivik ran out of ammunition. He changed clips. They didn't move. He shot them in the head.

Breivik recalled continuing his rampage around the island, luring youth from their hiding places by telling them he was a police officer who was there to protect them. When they came out, he gunned them down.

Breivik has already admitted to setting off a bomb on July 22 in Oslo, killing eight people, before opening fire to the governing Labor Party's annual youth camp on Utoya island. However, he has pleaded not guilty to criminal charges, saying his victims had betrayed Norway by embracing immigration.
He earlier told the Oslo court that if Norway had adopted a "Danish level" of cultural and immigration policies, he would never have committed his massacre.
The main goal of the trial, now in its fifth day, is to figure out whether Breivik was sane or insane during the attacks. To official reports have come to opposite conclusions on that point.
Earlier this week, Breivik said his original plans called for attacks on numerous government targets, including the Royal Palace.
In the fourth day of his trial Breivik he had originally intended to attack Oslo's government district, the Labor Party's office and a third target, and the royal palace.
He testified that he decided against multiple bombs because building one was "much more difficult than I thought."
(Arutz Sheva's North American Desk is keeping you updated until the start of Shabbat in New York. The time posted automatically on all Arutz Sheva articles, however, is Israeli time.)