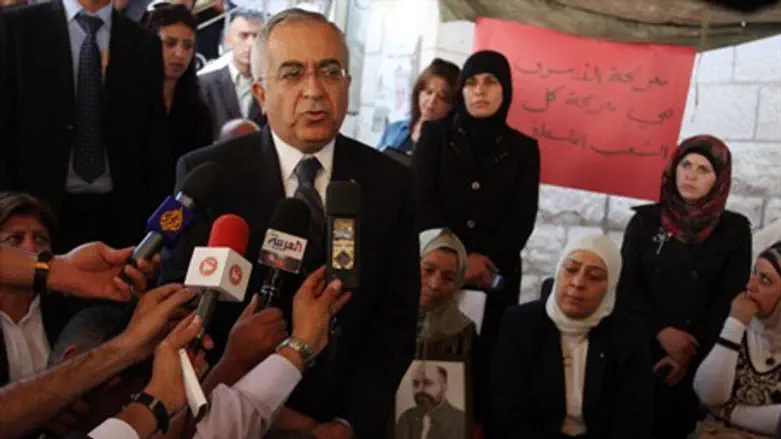 Salam Fayyad
Flash 90
Palestinian Authority Prime Minister Salam Fayyad pulled out of a planned meeting with Prime Minister Binyamin Netayahu on Tuesday.
The move scuttled what was set to be the highest-level talks between Israeli and PA officials in nearly two years.
Fayyad and Israeli Prime Minister Benjamin Netanyahu were scheduled to meet Tuesday evening in what the PA portrayed as "a last-ditch effort to salvage peace talks" before the US election season. 
However, shortly before the meeting was to start, PLO chief negotiator Saeb Erekat said that only he and a senior PA security official, Majed Faraj, would attend.
"We are on our way," he said, giving no explanation for Fayyad's absence. Officials in Fayyad's office declined comment.
Even before the last-minute hitch, officials on both sides played down expectations for the meeting, where the PA delegation planned to deliver a letter from PA chairman Mahmoud Abbas to Netanyahu.
Israeli officials said Netanyahu would accept the letter from whoever arrived.
However, the letter's contents are already known to the press and serve as a non sequitor in terms of reviving the moribund peace process.
In it, Abbas reportedly demands Israel accept the indefensible pre-1967 lines as borders for a future PA state, halt all construction in the 'disputed territories,' and release all Arab terrorists from its prisons.
PA officials have confirmed that Abbas withdrew a threat in earlier drafts of the letter to resort to dissolve the Palestinian Authority after pressure from US President Barack Obama.
Netanyahu's office previosuly responded to a threat to dismantle the PA saying "it wouldn't be the end of the world."
Israel has already said it is ready to resume negotiations from either side immediately without preconditions and regards Abbas' demands as a fait accompli intended to forestall talks.
They note that a previous 10-month building freeze by Israel in Judea and Samaria aimed at meeting PA demands was not only rebuffed, but answered with more preconditions and a unilateral statehood bid at the UN.
Unilateral moves are expressely proscribed by the 1993 Oslo Accords. 
Nonetheless, in December 2011 the PA adopted "a strategy based on continuous efforts along with the international community to secure full recognition and full United Nations membership, pursuing internal reconciliation, and keeping up the popular resistance."
Netanyahu is expected to reject Abbas' preconditions and demand an immediate return to the negotiating table. His own letter to Abbas will be delivered by Israeli chief negotiator Yitzhak Molho at a later date.