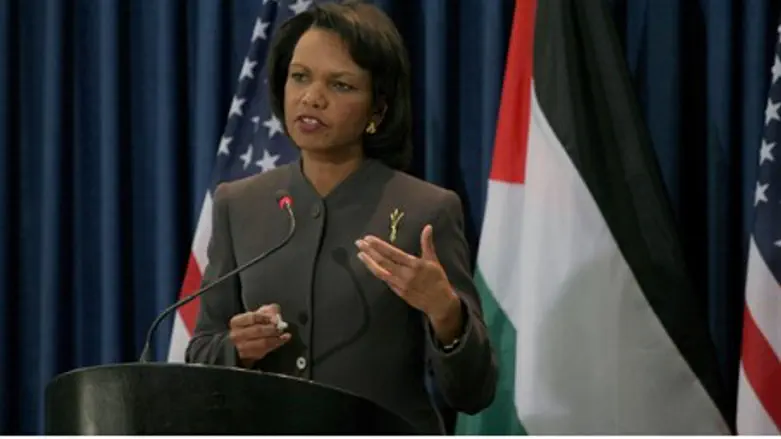 Condoleezza Rice
Israel news photo: Flash 90
Former U.S. Secretary of State Condoleezza Rice plans to visit Israel next month, but only for business, despite encouragement to run as vice president on the Romney ticket.
Mitt Romney unofficially sewed up the Republican nomination for president Tuesday with the announcement by Rick Santorum that he is dripping out of the race. Newt Gingrich, who started out as a serious challenger, has lost any chance as Romney has picked up most of the delegates in state primary elections.
Rice heads a consultant firm that works with Motorola, which has a large presence in Israel, but her planned visit is not a campaign stop, based on her insistence that politics is not her "strong suit." However, she has asked to meet with leading Israeli politicians during her two-day visit, including President Shimon Peres and Defense Minister Ehud Barak.
She describes herself as a moderate Republican. She also is black, an advantage for Romney against President Barack Obama, who has overwhelming support from the black American community.
One serious drawback is that Rice is single.
She has made numerous trips to Israel in a failed effort to carry out former President George W. Bush's Roadmap plan for creating an independent Palestinian Authority entity. She succeeded in pressuring Israel to make several major concessions to PA Chairman Mahmoud Abbas without holding him to previous commitments.
Despite her flat refusal to consider a run for vice president, author Keith Koeneman wrote in the Huffington Post this week, "Romney should therefore consider Condoleezza Rice…as a potential running mate.
"Rice would complement Romney with respect to race and gender, but her qualifications as a vice president go far beyond these demographic details. First, she is a woman of substance – self-made, smart, level-headed –  who would bring gravitas and perspective to one of the nation's most important offices.
"Second, Rice has served in two previous White House administrations and her prior experience functioning on the world's stage will help her to be successful as vice president. Finally, the former secretary of state and national security advisor is unquestionably a foreign policy expert and seasoned diplomat"
Rice told Fox News last month, "I think we should go another direction and find somebody who really wants to be in elected office," Rice said. "How many ways can I say it? Not me."