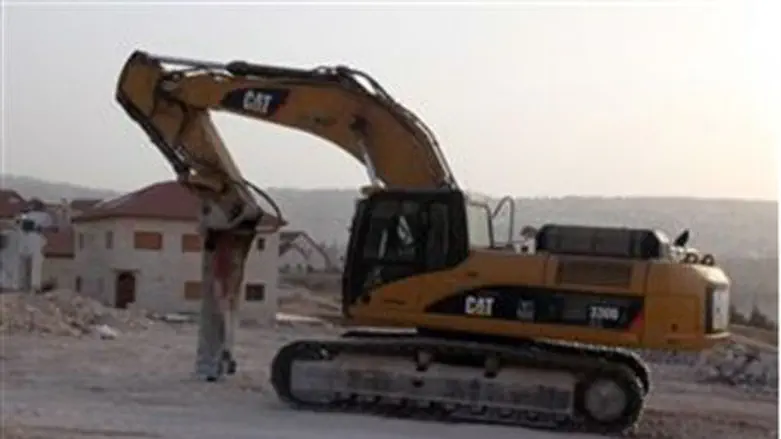 Construction (illustrative)
Israel news photo: Flash 90
Regavim, an NGO watchdog group for Jewish national property rights, recently filed a petition with the Supreme Court against an illegal Arab outpost currently being established in Susya on state land.
Susya is located on the southern edge of the Hevron Hills, between Kiryat Arba-Hevron and Arad.
Regavim's attorney, Amir Fisher, wondered in a conversation with Arutz Sheva on Tuesday why is it that the Civil Administration knows how to enforce the law when it comes to Jews but does not do the same when it comes to Arabs.
"Palestinians everywhere are building freely without obtaining building permits and yet the Civil Administration ignores this," said Fisher. "They built near an Arab outpost near Susya, on state land. Not only did the Civil Administration not remove them, they ordered local Jewish farmers to leave the area so as to prevent friction."
Fisher said that the illegal outpost was built by an Arab family from the PA-controlled town of Yatta. "First they built a tent, then a hut and then buildings. Instead of destroying their buildings which were constructed without a permit on state land, the local commanding officer ordered that the Jews be moved out."
He explained that Regavim's petition is intended to balance the one-sided picture that has been formed in recent years.
"Unfortunately, Defense Minister Ehud Barak does not permit Jews to build, even in places that have certificates and outline plans, which actually forces people to be criminals," said Fisher. "The use of petitions is effective, because it brings the true facts before the Court. Until now this method was only used by left-wing organizations, and it is time that we change the hearts and minds of the judges. We show them that the Palestinians are building villas, castles and huge schools, and all without a permit."
Arutz Sheva asked the IDF spokesman and the Civil Administration for a comment on Regavim's claims, but no comment has been received as of yet.