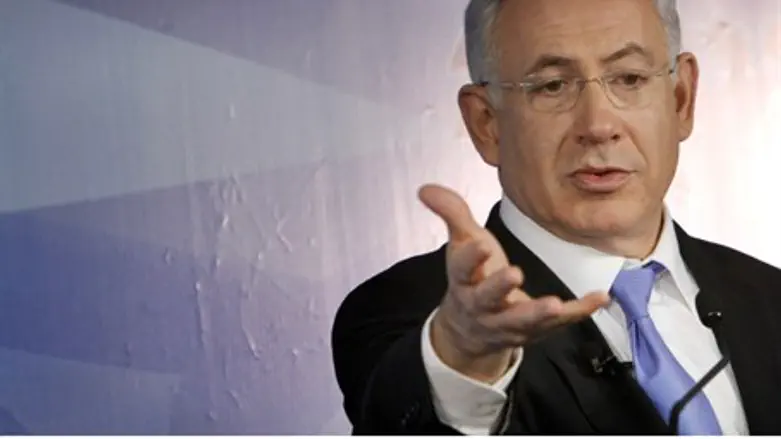 Binyamin Netanyahu 03.04.12
Flash 90
Prime Minister Binyamin Netanyahu said Tuesday that sanctions aimed at halting Iran's nuclear enrichment program have failed to yield results.
"The sanctions are painful, hard… but will this bring about a halt or a retreat in the Iranian nuclear program? Until now, it has not happened," Netanyahu told reporters in Jerusalem.
He said the Iranian regime is struggling financially, but has strengthened its political hold on power in recent months.
"The regime strengthened its grip in the recent elections, despite the sanctions," he said of Iran's parliamentary elections in March which saw Supreme Leader Ayatollah Khamenei's hardliner faction win significant gains.
"It has strengthened its political grip, it is struggling financially and it still hasn't turned back by even one millimeter from its nuclear program.
"Will these difficulties cause the Iranian regime to stop its nuclear program? Only time will tell. I can't tell you if it will happen. I know there is hardship but there still hasn't been a change."
"We are leading an unprecedented international campaign against Iran's efforts to acquire nuclear weapons," he explained. "I do not know of an easy way to solve the Iranian problem."
"We will attack those who threaten to attack us," he added, referring not only to the Iranian threat, but to the threats of rockets from Gaza.
Netanyahu's remarks were widely seen as a means of keeping pressure on Iran ahead of expected nuclear talks between Tehran and the 5+1 – the five permanent members of the UN Security Council plus Germany – slated for later this month.
Iran signaled last month it was open to discussing the cessation of its own uranium enrichment initiative – a key process in developing nuclear weapons – if the West would render technical assistance and sell 20% enriched uranium to Tehran.
In exchange, Iran indicated it would allow "permanent human monitoring" and "full transparency" at its nuclear facilities. However, Iranian officials have sent mixed signals in recent weeks leading to skepticism in Western capitals.
Although the United States and its allies also believe Iran is seeking nuclear weapons capability, they have called for more time to allow biting sanctions to take effect.
So far, the UN Security Council has imposed four sets of sanctions on Tehran over its nuclear activities, while the US and Europe have also imposed their own raft of unilateral economic sanctions.
However, Israel – which sees a potential Iranian nuclear bomb as an existential threat – has made it clear it will not wait forever and fears Iran's nuclear program could soon reach "the immunity zone" in which an Israeli attack would prove ineffectual.
Netanyahu's remarks were made during an hour long press conference in Jerusalem marking the beginning of his fourth year in office.