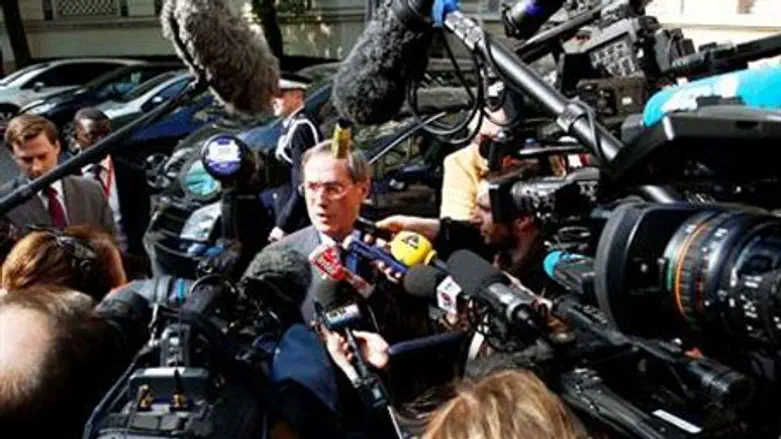 France's Interior Minister Gueant speaks to m
Reuters
France is expelling five "foreign Islamic radicals" in a new strategy to cope with the growing wave of Muslim terror. The United Nations, which frequently has condemned Israel for deporting Arab terrorists, has not commented.
The action by France follows the murders of seven people, including a rabbi and three young Jewish children in Toulouse, by Al Qaeda-linked terrorist Mohammed Merah, who was killed in a French police raid on his apartment two weeks ago.
The French Interior Ministry, headed by Claude Gueant, stated that two Muslims are being deported and that similar action will be taken against three others as part of "an acceleration of the deportation procedures of foreign Islamic radicals."
The ministry added that the law "allows this type of decision with regards the 'urgent need for state security or public safety' or 'conduct likely to harm the fundamental interests of the state.'"
One of those expelled from the country is a terrorist who was involved in attacks in Morocco in 1994 and who was sent to his home country, CNN reported. In addition, a Muslim imam was sent back to his native Mali because of incitement in his sermons against the West and against Jews.
Proceedings have begun against three others – imams from Saudi Arabia and Turkey and a radical from Tunisia.
French President Nicolas Sarkozy, who is in the midst of a re-election campaign, said that recent raids that rounded up 19 suspected Muslim terrorists were intended to "deny the entry of certain people to France" whose values contradict those of France.
He added, "It's not just linked to Toulouse. It's all over the country. It's in connection with a form of radical Islam, and it's in agreement with the law."