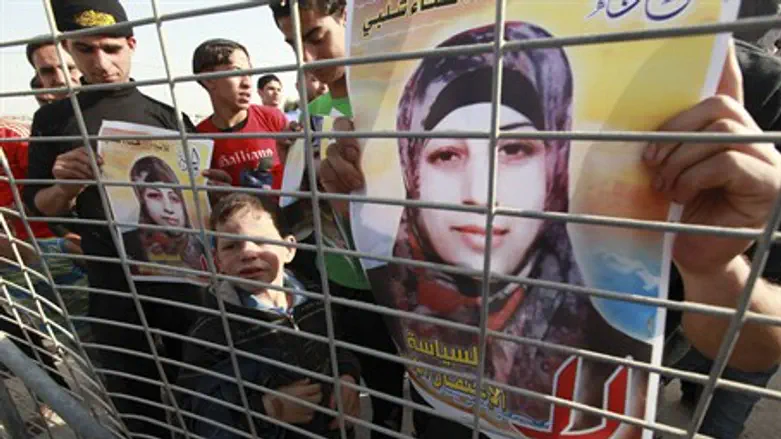 Arabs hold posters of Hana Shalbi
Reuters
A female terrorist whose 43-day hunger strike brought about her release from an Israeli prison was deported to Gaza on Sunday, AFP reported.
Witnesses and officials in the Palestinian Authority told the news agency that Hana Shalbi entered Gaza via the Erez border crossing, and was transferred by ambulance to a local hospital for tests.
Shalbi was quoted as having said she was "very happy to be in my country with my people." She was reportedly received in Gaza by approximately 100 people bearing her picture and calling out her name. Officials from the Islamic Jihad and Hamas terror groups were present as well.
Shalbi, a terrorist from the Islamic Jihad organization, was arrested for terrorist activity in 2010. She refused to cooperate with interrogators and was violent towards them. This violence included threatening their lives, trying to attack one of them, spitting at police officers, and even biting a policewoman.
Even though there was not enough evidence to criminally prosecute Shalbi, she was taken to administrative detention for six months because of the very reliable intelligence information that had been gathered and which tied her to terrorist activities. The arrest was upheld in all the courts, including the Supreme Court. Her administrative detention was extended several times and she was held for two years until her release as part of the Shalit deal.
She was recaptured in February by an IDF force at her home in the village of Burkin, west of Jenin, after Israel gathered "completely certain" intelligence information regarding her intent to return to terrorist activity.
Shalbi subsequently launched a hunger strike until Israel agreed to release her in exchange for her ending the strike. As part of the agreement for her release, Shalbi agreed to be deported to Gaza for a period of three years. After that time she will be allowed to return to Judea and Samaria.
A spokeswoman for the Israel Prison Services, Sivan Weizman, confirmed in a conversation with AFP that Shalbi had been taken from the Ramla prison south of Tel Aviv to the Erez crossing.
Weizman said that Shalbi, who ended her hunger strike on March 29, was transferred in a regular vehicle, and said she had no details on her condition.
The report quoted a statement Shalbi released on Sunday through her lawyer in which she said she had agreed to the deal voluntarily.
"To my dear family and my people and all the free people in the world, I thank you for your efforts and I appreciate everything you did for me and for the prisoners," she said.
"I hope that you will understand my position and my decision, which was taken freely. I chose to be transported to Gaza, which is half the homeland, and to be with my family and people there for three years," Shalbi said.
"After that I will go back to my home in Jenin and to my family. I hope that my decision will be respected and that we will continue to support together those who are fighting their battles for the homeland and for the prisoners."
Shalbi is one of several PA terrorists in Israeli prisons who are hunger striking in an attempt to force the Prison Service to release them. Several self-described human rights organizations have called on Israel to consider releasing these terrorists.
Another terrorist, Khader Adnan, had gone a on a hunger strike for 66 days to pressure the State to release him. The hunger strike resulted in Adnan being admitted to hospital.
He launched the hunger strike to protest his administrative detention and the strike became a cause célèbre for anti-Israel activists and Arab propaganda organizations. His attorneyappealed his administrative detention order to Israel's Supreme Court.
The State later caved in to the pressure and agreed not to renew Adnan's administrative detention order. He, in turn, agreed to end his hunger strike and will be released on April 17.