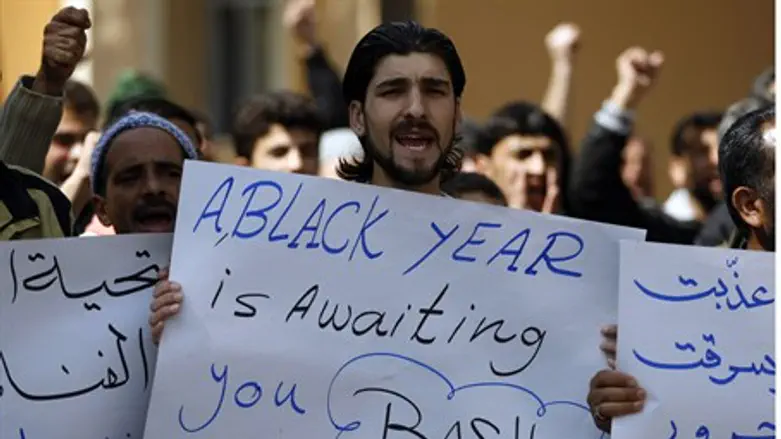 Protests against Assad, March 30 2012
Reuters
Fresh clashes erupted between Syrian soldiers and rebels across many parts of Syria on Friday, despite President Bashar Assad having accepted a peace plan brokered by UN envoy Kofi Annan earlier this week.
According to The Associated Press, there were clashes in the suburbs of Damascus, in the northern Idlib province, the restive central province of Homs and in eastern Syria.

The Local Coordination Committees said 15 people were killed across the country, including eight who died in the town of Quriya in the eastern Deir el-Zour province. There, according to the organization, security forces opened fire to disperse anti-government protesters, triggering a shootout and fierce clashes with local rebels in the area.

The LCC and the British-based Syrian Observatory for Human Rights also reported intense clashes between government forces and defectors in the suburbs of Damascus, between the towns of Zamalka and Arbeen.

In Damascus, troops opened fire on protesters in the Kafar Souseh district, killing at least one.
Earlier on Friday, Annan demanded the Syrian government implement the ceasefire it previously agreed to immediately.

"The deadline is now," an Annan spokesman said, adding the former UN chief believed Assad needed "to make a good faith gesture."

On Thursday, the UN's human rights chief Navi Pillay said there is enough evidence to bring human rights charges against Assad over his year-long crackdown on protesters.
"Factually there's enough evidence pointing to the fact that many of these acts are committed by the security forces, (and) must have received the approval or the complicity at the highest level," she told the BBC.

"President Assad could simply issue an order to stop the killings and the killings would stop..." Pillay explained. "So this is the kind of thing that judges hearing cases on crimes against humanity will be looking at on command responsibility."

On Thursday the Syrian opposition, skeptical about whether Assad would indeed implement Annan's peace plan, said it is willing to accept the plan but conditioned the acceptance on how quickly the plan would be implemented.
Waleed al-Bunni, a member of the Syrian National Council, told the London-based Asharq Al-Awsat newspaper that the opposition would accept the plan only if Assad's regime complies with its points within two days, even though it does not include the opposition's main demand that Assad should step down.
Al-Bunni said that if the plan "is an extra time for Bashar al-Assad to commit more massacres and destroy more cities and we lose 10,000 citizens, then it proves like all previous initiatives that the international community is not serious about solving the Syrian crisis and this community must then confront Al-Assad with his lies."
(Arutz Sheva's North American Desk is keeping you updated until the start of Shabbat in New York. The time posted automatically on all Arutz Sheva articles, however, is Israeli time.)