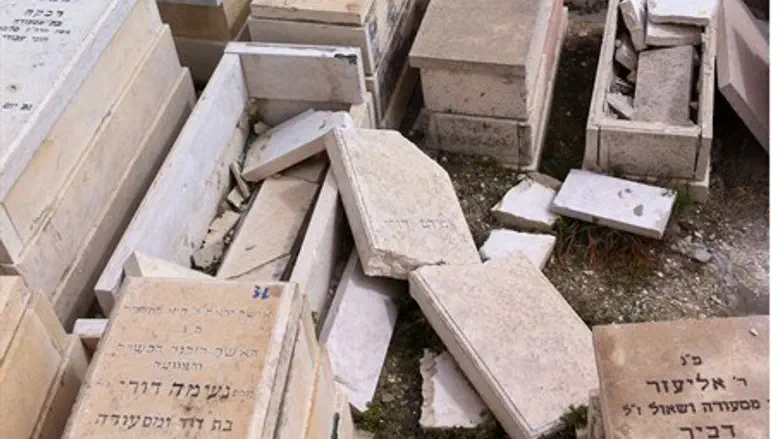 Desecration of graves at Mount of Olives
Israel news photo: Rafi Fischer
An Israeli man was hurt Wednesday in an attack by Arabs near the Mount of Olives cemetery in Jerusalem. The victim, whose name was not released, was taken to Shaare Tzedek Medical Center with light injuries after coming under attack by Arabs hurling large, sharp-edged rocks at his car as he drove near the cemetery.
Police began searching the area for the attackers and have launched an investigation into the incident.
Such attacks on the Mount of Olives have become more frequent in recent weeks, as they have elsewhere around the country, with questions rising as to whether the latest wave of Arab violence portends the start of a "Third Intifada," or third stage in the Oslo War -- the Arab violence that came in the wake of the Oslo Accords.
A week ago,
Arabs firebombed several Israeli homes
in the Ma'ale Zeitim (Ras el-Amud) neighborhood near the Jerusalem cemetery.
One of the firebombs (Molotov cocktails) exploded against the window of a child's bedroom. Another blew up in a parking lot. Miraculously, no physical injuries were reported in the attack.
Within hours, more than 150 people gathered in Yonkers, New York to protest the increasing danger from Arab attacks at the Mount of Olives. The International Committee for the Preservation of Har HaZeitim (Mount of Olives) noted the continued Arab desecration in the cemetery, questioning why Israel's government seemed unable to control the situation.
Last month, two U.S. Congress members Representative Elliot Engel and American Jewish leader Malcolm Hoenlein, executive vice president of the Conference of Presidents of Major American Jewish Organizations, were all attacked by Arabs at the site.
U.S. Democratic Representatives Elliot Engel and Jerold Nadler were both present when Arabs began hurling rocks at the group as they visited the ancient holy site. One of the hand-thrown missiles, a large "baseball-sized" rock, just missed hitting Congressman Nadler.
A leading Israeli journalist recently called on the public to begin defending itself against such attacks, commenting on the sense of growing anarchy, and dropping faith in police protection.