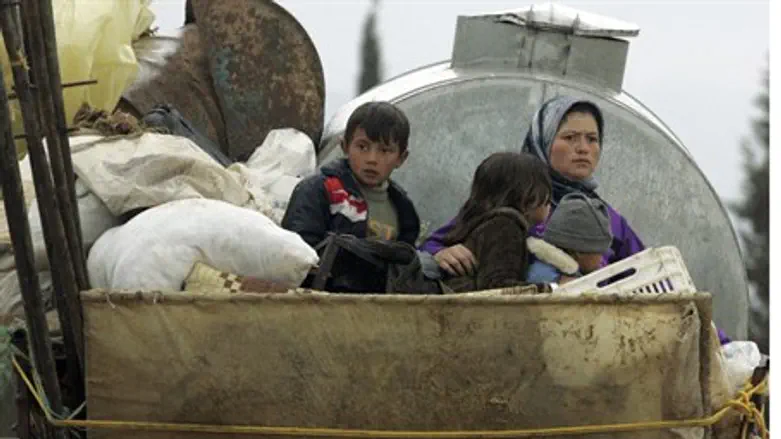 Syrian family flees into Lebanon
Reuters
Syrian Army troops have taken control of the central city of Kalat el-Mudik after a 17-day assault, despite the government having allegedly accepted a peace plan advanced by United Nations envoy Kofi Annan. The force also invaded several villages in the area as well, including a number across the border in Lebanon where Syrian rebels and civilians had taken refuge.
President Bashar al-Assad was expected to announce an end to the fighting shortly, the Syrian Dams Post reported Wednesday.
Western powers reacted skeptically to the Assad regime's alleged acceptance of the plan proposed by the former secretary-general of the international body.
Annan's six-point plan calls for Assad to withdraw troops and heavy weapons from population centers and for a daily two-hour humanitarian ceasefire on all sides, in all areas. The plan also calls for the government to release all those detained in the uprising.
It is the first plan backed by the entire U.N. Security Council, including Russia and China.
U.S. Secretary of State Hillary Clinton reserved judgment, saying at a briefing Tuesday that Assad's actions would speak for themselves.
"Given Assad's history of over-promising and under-delivering, that commitment must not be matched by immediate actions," she told reporters at a briefing. "If he is ready to bring this dark chapter in Syria's history to a close he can prove it by immediately ordering regime forces to stop firing and begin withdrawing from populated areas."
Clinton added that opposition forces, for their part, should "come forward with a unified position, a vision of the kind of Syria they are wishing to build."
Late Tuesday fragmented opposition groups  appeared to coalesce in a meeting in Istanbul under the Syrian National Council as the official representative of the Syrian people.
The U.N. has estimated that more than 9,000 civilians have died in the civil war that has raged for more than a year, beginning- with last year's Arab Spring uprising.