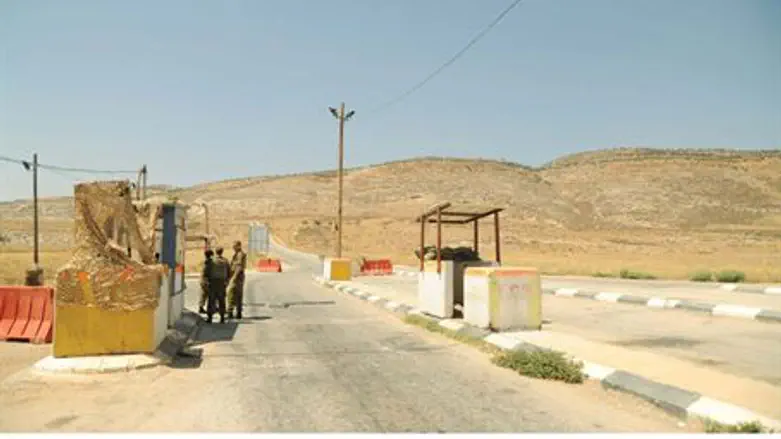 Jordan Valley Checkpoint
Israel news photo: Flash 90
Jordanian authorities confirmed on Tuesday that they will permit a planned Global March to Jerusalem in the Jordan Valley on Friday.
The Iranian news agency Fars quoted the Jordanian Public Security Department (PSD) as having confirmed authorities will allow Islamist activists to lead a march as part of global demonstrations "in support of Jerusalem."
PSD Spokesperson Lt. Col. Mohammed Khatib told Fars a "heavy" security presence will be deployed to maintain order during Friday's march.
The Global March is being staged in Lebanon and Jordan as another ploy to drum up international supports for the Palestinian Authority (PA) demand for unilateral recognition of PA territorial and political demands following the demise of the Oslo Accords and of the ensuing diplomatic process towards negotiations with Israel for the establishment of the PA as an independent entity.

Previous "million-man" marches have fizzled with few participants, but the Jordanian and Lebanese governments have offered more support this time around. Israel has warned them not to try cross the international borders.
According to the report in Fars, the Islamist movement stressed that the march will be "peaceful and well organized," dismissing fears of participants attempting to storm the border as "baseless."

Kathem Ayesh, a Muslim Brotherhood member and march organizer, was quoted as having said that participants will not stray from the designated rally site, pointing out that Islamists held a similar rally in the Jordan Valley last November without incident.

"This will be a peaceful rally in support of Jerusalem, not a call to storm Jerusalem," Ayesh was quoted in the report as having told The Jordan Times.
The Meir Amit Intelligence and Terrorism Information Center (ITIC) has presented information that the Iranian regime is behind the initiative and openly supports it. The march has also been endorsed by Rev. Jeremiah Wright, who was U.S. President Barack Obama's pastor for 20 years at the Trinity United Church of Christ in Chicago.