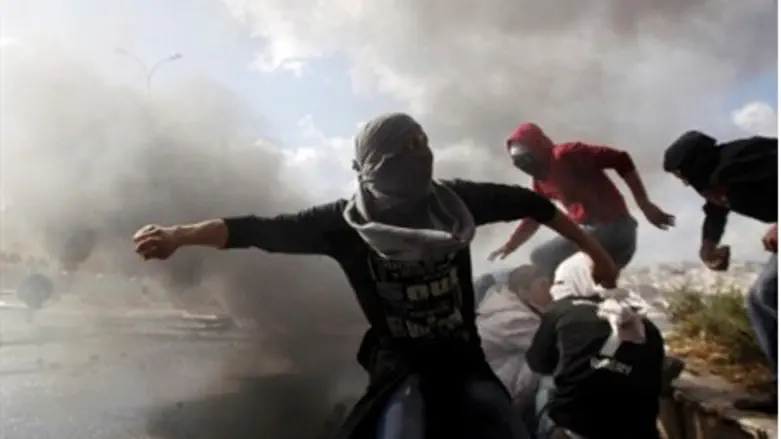 Masked Arab rock throwers
Reuters
A gang of Palestinian Authority Arabs rioted Monday on the road near the entrance of the Samaria (Shomron) Jewish community of Neve Tzuf.
The gang, comprised of about 15 Arabs, hurled sharp-edged rocks at vehicles with Israeli license plates traveling on the road near the PA Arab village of Nabi Saleh.
Along with the hail of rocks that greeted motorists was an obstacle course of burning tires, some of which were rolled towards the community of Neve Tzuf, possibly with the intent of igniting a blaze in the town.
A small fire was in fact ignited, but was later extinguished, and the community itself was not affected by the incident.
IDF soldiers restored order to the area with the use of riot dispersal methods.
Rock-throwing attacks by PA Arabs have increased over the past year.
A similar incident took place earlier in the day in Jerusalem, where a Jewish motorist was wounded in the Wadi Al-Joz neighborhood. An Arab mob hurled rocks and a cinder block at the vehicle as he was driving by, wounding the driver and damaging his car.
Police launched a search for the attackers and opened an investigation into the incident.
Nabi Saleh – Arabic for the Prophet Shelah, the son of the Biblical Judah, one of the 12 sons of the Patriarch Jacob – is located in the Binyamin region of Samaria. 
The village is home to a blue-domed building which is reputed to house the Tomb of Shelah.  The building includes a mosque built atop the ruin of what once was a Byzantine-era church at the site.