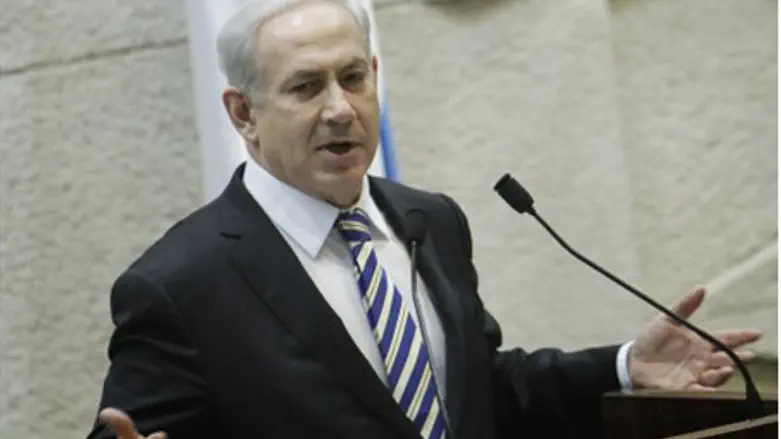 Prime Minister Binyamin Netanyahu addresses t
Israel news photo: Flash 90
Israel announced on Thursday night that it would not be cooperating with the United Nations Human Rights Council's (UNHRC) new "fact-finding mission" to investigate alleged Israeli violations relating to communities in Judea and Samaria.

An anonymous diplomatic source told Army Radio following the UNHRC's announcement on Thursday, that Israel would not cooperate with the mission, saying that Israel "will not give legitimacy to a body that is not legitimate."

Earlier, the 47-nation UNHRC adopted five resolutions condemning Israel, including one that establishes the mission. The vote was 36 in favor, 1 against (U.S.) and 10 abstaining.
Prime Minister Binyamin Netanyahu was quick to issue a statement denouncing the UNHRC. "This is a hypocritical council with an automatic majority against Israel. This council ought to be ashamed of itself," he said.
"Until today, the council has made 91 decisions, 39 of which dealt with Israel, three with Syria and one with Iran," the prime minister noted. "One only had to hear the Syrian representative speak today about human rights in order to understand how detached from reality the council is. Another proof of its detachment from reality came last week when it invited before it a representative of Hamas, an organization whose ideology is based on the murder of innocents."    

Earlier this week, the Palestinian Authority announced it plans to approach the UNHRC and ask it to investigate the 'Israeli crimes' in Judea and Samaria.
The PA's Foreign Minister, Riyad al-Malki, said the PA would ask the UNHRC to appoint an international fact-finding commission "to come to the occupied Palestinian territory to witness firsthand the illegal Israeli practices violating Palestinian people's rights."