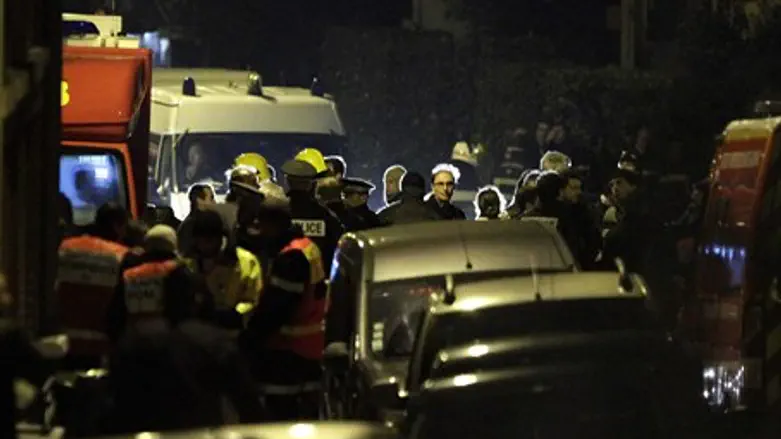 French Police Gearing Up For Raid
Reuters
French interior minister Claude Gueant told France-2 TV that a suspect wanted for shooting seven people dead plans to turn himself in to some 300 police surrounding him, but will do it at night "to be more discreet."
Gueant's remarks came as French police were seen gearing up and making preparations to storm the Toulouse home of 24-year old Mohammad Merah, who has been besieged within for more than sixteen hours.
The seige began when police decided to launch a hastily scrabbled together raid upon learning more shootings were imminent. At least two police officers were wounded in an ensuing gunfight.
He said Merah appeared to have acted alone in the killings, but also told police negotiators that he met al-Qaeda "chiefs" while travelling in Pakistan last year.
"We knew, and that is why he was under surveillance, that he had travelled to Afghanistan and Pakistan," Gueant said, admitting the shooter was on a watch list.
Prosecutors have said Merah was a self-taught radical Salafi who had been to Afghanistan twice, and had trained in the Pakistani militant stronghold of Waziristan.
They said he told police negotiators his only regret was that he did not have time to carry out more murders.
Merah, the gunman responsible for the deadly shooting at the Otzar Hatorah Jewish School in Toulouse on Monday, reportedly discussed the murders with police via telephone.
He also discussed two previous shootings since March 11 in which three French paratroopers were murdered. The paratroopers, like Merah, were of Arab extraction.
The suspect "wants to take revenge for Palestinian children" killed in the Middle East and "has various grievances with the French military," Paris Prosecutor Francois Molins, part of the anti-terrorist unit leading the investigation, told reporters in Toulouse.
Monday's Otzar Hatorah shooting – the third deadly shooting carried out by Merah since March 11 – resulted in the deaths of Rabbi Jonathan Sandler, 30, his sons Arieh, 5, and Gabriel, 3, and 8-year-old Myriam Monsenego, daughter of the school's principal.
All four were laid to rest in Jerusalem on Wednesday.