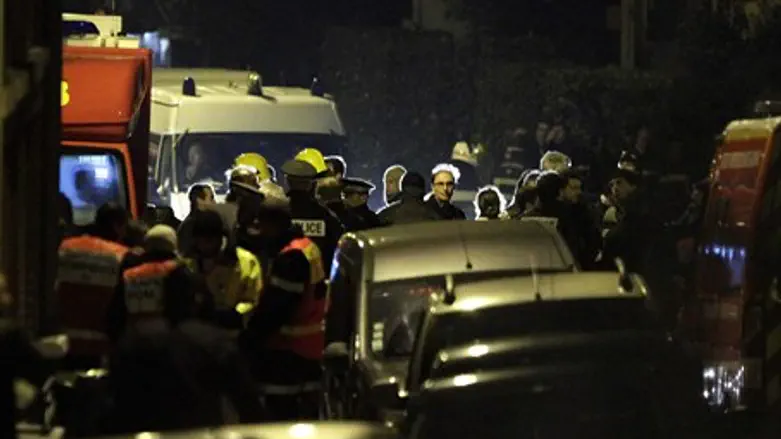 French Police Gearing Up For Raid
Reuters
Despite earlier reports, the standoff with  Mohammad Merah, the gunman believed to be the murderer in this week's attack at the Otzar HaTorah school in Toulouse, as well as a string of other shootings, appears not to be over just yet.
As of 4:00 a.m. (Israel time), reports from the building in which Merah resides said that a shootout had broken out between French security forces and Merah. It is not yet known whether Merah was hit.
Earlier, the Toulouse municipality reported that security forces had managed to capture the terrorist after a siege which continued for nearly 24 hours.
The raid on on Merah's home began shortly before 1:00 a.m. (Israel time) on Thursday, according to local media reports. Three explosions had reportedly been heard in the area.
The BBC quoted Toulouse's deputy mayor as having confirmed an assault had begun on the home, but an unnamed source close to the operation later told AFP that the explosions were part of pressure by police on Merah to surrender.
"He said he wanted to give himself up. He changed his mind, so we're stepping up on the pressure on him to surrender," the source told AFP. There were no sounds suggesting an exchange of fire following the blasts, AFP reporters on the ground said.
Earlier, the 24-year-old gunman discussed with police negotiators the killing of three Jewish school children, a rabbi and three paratroopers in a string of shootings that began on March 11.
The raid followed hours of intensive negotiation, tactical planning and a predawn raid by police on Wednesday at a home in Toulouse, just one kilometer from Otzar HaTorah.
Hundreds of police surrounded a five-story building where Merah was holed up while emergency personnel evacuated the building using fire-ladders.
Earlier, three officers were wounded in an exchange of fire as police tried to coax the suspect out of the building. The suspect had tossed a handgun out of a window, but reportedly had other arms, including an assault rifle.
French Interior Minister Claude Gueant maintained police wanted to take the man alive throughout the standoff. Gueant told reporters that the young man is a French man who identifies with al Qaeda militants.
The suspect "wants to take revenge for Palestinian children" killed in the Middle East and "has various grievances with the French military," he said.
In an interview with a French television station Gueant said that Merah "wanted to kill another soldier, but did not find anyone, so he turned to the Jewish school and killed the teacher and three children."
French prosecutors said Merah, a French citizen of Algerian extraction, said he had no regrets other than having run out of time for more killings.
He has no regrets, except not having more time to kill more people and he boasts that he has brought France to its knees," Paris Prosecutor Francois Molins, part of the anti-terrorist unit leading the investigation, told reporters in Toulouse.
"He has explained that he is not suicidal, that he does not have the soul of a martyr and that he prefers to kill but to stay alive himself," Paris Prosecutor Francious Molins, a member of the task force set up after Monday's murders at Otzar HaTorah, said.
Merah, who filmed his killings with a small camera for posterity, had already identified another soldier and two police officers he wanted to kill, Molins said.
The suspect, who officials say has spent time in Afghanistan and Pakistan, has reportedly referred to himself as a "mujahedeen," or holy warrior.
Over the last few days, France has maintained a high level terror alert in the southwest region as police mounted a massive manhunt for what they described as a "potential serial killer."
The first attack came on March 11 when a French paratrooper was killed in Toulouse. Two other paratroopers were killed and one injured last Thursday in the nearby town of Montauban.
It was reported all three murdered paratroopers were of Arab descent, and had been killed with the same weapon.
That incident was followed by the murders of Rabbi Jonathan Sandler, his sons Arieh, 5, and Gabriel, 3, and 8-year-old Myriam Monsenego at Otzar HaTorah in Toulouse.
In the paratrooper shootings, the suspect drove a motorcycle and wielded a Colt 45 firearm.
However, contrary to initial reports, a different weapon was used in the Jewish school shooting.
As the Toulouse raid unfolded, the bodies of the four Jewish school shooting victims arrived in Israel for burial in a heartrending service attended by tens of thousands, that began at 10 a.m. on Wednesday.