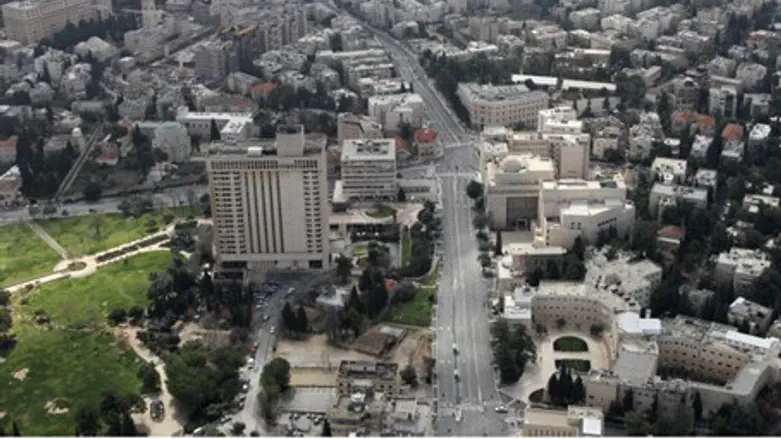 Jerusalem
Israel news photo: Flash 90
Radio host Aaron Klein of WABC radio in New York offered this week $50,000 to an organizer of the upcoming Global March to Jerusalem, if the activist could name one city in the Middle East outside of Israel that has more freedom than Jerusalem. The activist was unable to do so.
The Global March to Jerusalem initiative aims at getting over one million Arabs and their supporters to attempt to infiltrate Israel's borders on March 30th. A spokesman for the march said last week the initiative "demand[s] freedom for Palestine and its capital Jerusalem."
The Meir Amit Intelligence and Terrorism Information Center (ITIC) has presented information that Iran is behind the initiative and openly supports it. The march has also been endorsed by Rev. Jeremiah Wright, who was U.S. President Barack Obama's pastor for 20 years at the Trinity United Church of Christ in Chicago.
During the show, Klein spoke with march activist Frank Romano, who is organizing the portion of the march that seeks to infiltrate Israel from the Qalandia checkpoint, at the border that leads from Ramallah to Jerusalem.
Romano argued during the interview that Jerusalem "is not open to many Palestinians" to which Klein said, "I will give you $100 on the spot if you can name me one city, outside of Israel, that's more open than Jerusalem."
Romano then asked Klein, "What do you mean more open?" to which Klein replied, "Democracy, freedom of all religions to pray."
He then offered Romano $1,000 if he could name one city in the Middle East that is more open than Jerusalem. Romano got tongue-tied and Klein said, "Answer the question. Name a city, because you keep telling me that you're protesting for more openness in Jerusalem. You literally just told me that. Name a city that's more open."
Romano then accused Klein of being "off the topic" and of "taking it out of context. Many Palestinians who live even as close as Ramallah or Bethlehem" are not open to visit Jerusalem, he said, and Klein then offered him $10,000 to name a city in the Middle East that is more open than Jerusalem.

Romano responded by saying that "Palestinians that can leave the country can get to New York [not a city in the Middle East –ed]. It's easier for them to pray in a mosque in New York then to pray in Al-Aqsa in Jerusalem."

Klein then offered Romano the $50,000 and told him, "You should be protesting Syria. You should be protesting Saudi Arabia. You should be protesting actual apartheid and shame on you for going against the one Middle Eastern country that is actually democratic."