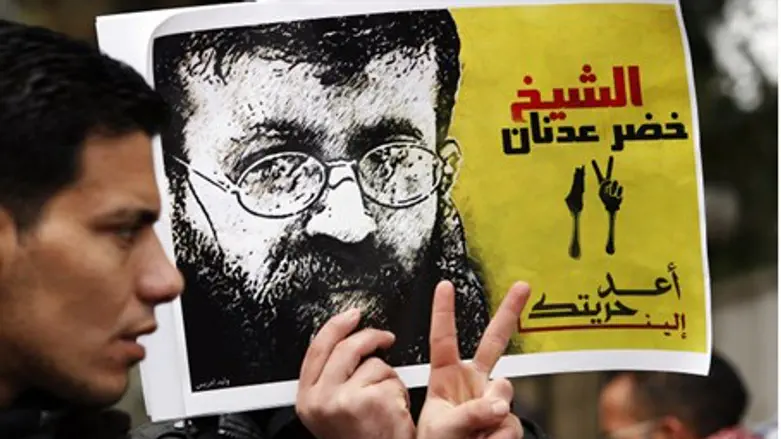 Protest for freeing terror spokesman Adnan
Israel news photo: Flash 90
Terrorist Khader Adnan, who had gone a on a hunger strike for 66 days, resulting in his hospitalization, was released on Tuesday from the Ziv Medical Center in Tzfat. He had been hospitalized since February 5.

Journalists and photographers who came to the hospital prior to Adnan's release were reportedly disappointed to discover the Prison Service had taken him out through the back door of the hospital, thus preventing reporters from speaking to him and photographing him.
Adnan, who has been held by Israel on suspicion of terror activity since December 17, 2010, was held in administrative detention since his arrest on the basis of intelligence data indicating he is a threat to Israel's national security.
He launched a hunger strike to protest his administrative detention and the strike became a cause célèbre for anti-Israel activists and Arab propaganda organizations. His attorneyappealed his administrative detention order to Israel's Supreme Court.
The State later caved in to the pressure and agreed not to renew Adnan's administrative detention order. He, in turn, agreed to end his hunger strike and will be released on April 17.
A video later surfaced in which Adnan is shown pleading for suicide bombers to "carry the next explosive belt."
Dr. Oscar Ambon, Director of the Ziv Medical Center, noted on Tuesday that the hospital provides medical assistance to anyone who needs it and said the doctors did their best to keep Adnan in good health.
"We as doctors do our best to provide medical assistance to anyone who needs it and do our work in the best way possible, regardless of the identity of the patient," said Dr. Ambon. "Throughout his entire hospitalization, doctors worked to realize the rights of the detainee despite the limitations of his arrest and his lack of cooperation. Doctors were able to overcome the complex medical problems which came about as a result of the prisoner's hunger strike and he is being discharged in good condition."