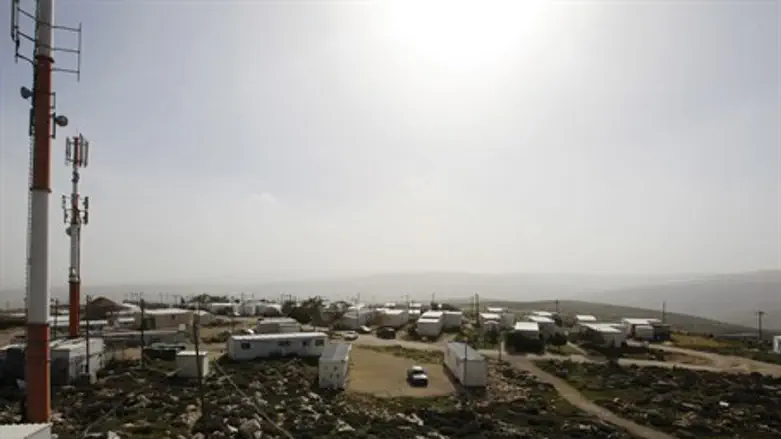 Migron
Israel news photo: Reuters
The Palestinian Authority Arabs who claimed, with the help of leftist Peace Now, that the community of Migron in Binyamin was built on private land but who have failed to prove that claim, are now complaining about the compromise that has been reached with the residents.
The residents of Migron recently signed an agreement, brokered by Minister Benny Begin, according to which residents will be uprooted from their homes at the current site and will be moved to a permanent neighborhood on state land nearby.
The agreement calls for the community to be relocated to its permanent location, near the Psagot Winery, in two years' time. The present site will be handed over to the Civil Administration. The existing structures at the site will be torn down but a "public site" may be established at the location instead of a residential community.
In any case, the location of the present Migron will remain Jewish and will not be handed over to Arab control.
The residents, who signed the agreement with mixed feelings, will have to pay for the building of the new homes from their own pocket.
The State has already asked the Supreme Court to postpone the demolition of Migron, which was scheduled for the end of March, until 2015. The Court will discuss the request on Thursday but the Arab complainants have already submitted a letter to the Court, in which they express their objection to the agreement.
According to a report in the Haaretz newspaper on Tuesday, the Arabs are calling the Migron agreement "a disgrace."
They are arguing that over the years there has been a fierce debate about whether the Supreme Court should wait with the demolition until an alternative is found for the residents or order that the demolition take place immediately. The Arabs are claiming that the judges decided that there should be no connection between the demolition of the outpost and the establishment of the new neighborhood and are saying the State is now working against that ruling.

"Shamefully, the State of Israel has knelt down to the people of Migron and said Amen to every demand and whim, excessive or strange as it may be," the Arabs write, according to the report. "The State's request awards a prize to criminals and allows for judicial improvements to those who have already had their day in court."