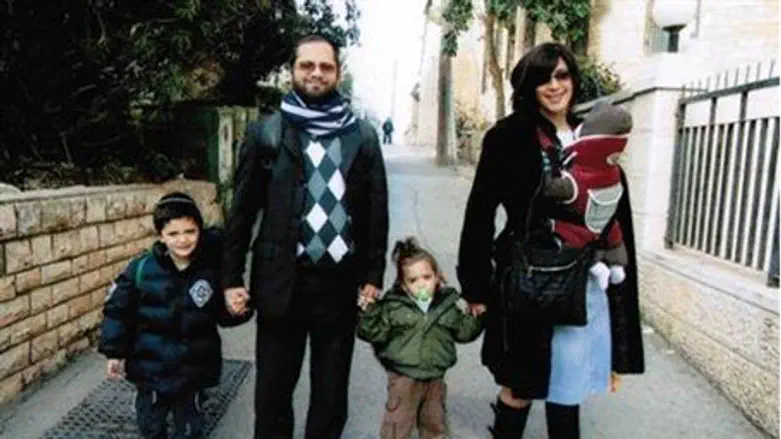 Sandler Family
Flash 90
Foreign Ministry officials on Monday said the Israeli consulate in Marseille is handling arrangements for the four victims of the Toulouse shooting to be returned home for burial.
"After the appalling murders in Toulouse, the Israeli Embassy in Paris, as well as the Israeli Consulate in Marseille, have contacted the bereaved families and learned of their desire to bring their loved ones to Israel for burial," a statement said.
"The Government of Israel has therefore decided to transfer the coffins to Israel as soon as possible, with the cooperation and assistance of Israel's representatives in France and in coordination with the French authorities," it continued.
It concluded, "The names of the victims are: Rabbi Jonathan Sandler, Gabriel Sandler (age 4), Arieh Sandler (age 5), Miriam Monsonego (age 7)." 
Monday morning at or around 08:00 hours a motorcycle-riding gunman gunned down the four Jews outside the Otzar HaTorah day school.
The attack was the third such attack in recent days, but the first to target France's Jewish community. Previous attacks targeted French paratroopers in southern France.
French prosecutors – who decried Monday's attack as "savagery" – say it is too soon to classify the murders as hate crimes or terrorism, adding they are concerned the mass murders are the work of a "serial killer."
Prime Minister Binyamin Netanyahu on Monday vowed to aid French authorities in bringing the perpetrator to justice.
"I promise that the Israeli government will aid the French government in this task," Netanyahu said. "We would do it anyway – some of the victims were also Israeli citizens."
משפחת סנדלר
credit: פלאש 90
גבריאל סנדלר
credit: פלאש 90
הרב יונתן סנדלר ז"ל
מרים מוסטנגו ז"ל
credit: פלאש 90
אריה סנדלר ז"ל
credit: פלאש 90
תמונה מהפיגוע
credit: רויטרס
סרקוזי במקום הפיגוע
credit: רויטרס
הנרצחים על רקע זירת האירוע
אילוסטרציה: מתי ש.