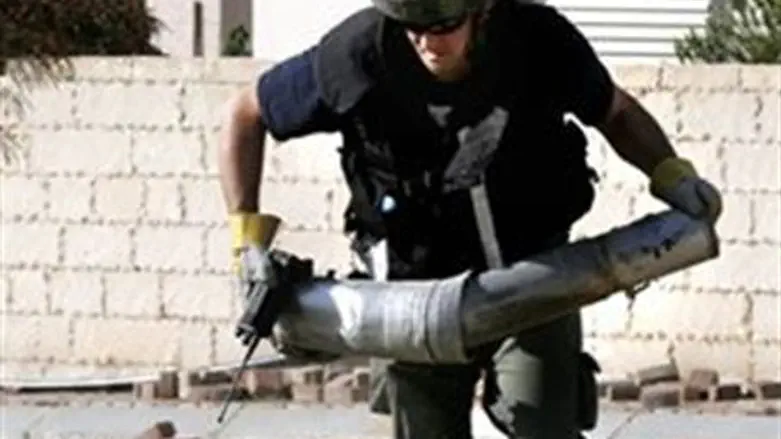 Kassam rocket - funded by Bank of China?
Israel news photo: Flash 90
Gaza terrorists fired a Kassam rocket on the Western Negev Monday morning, causing no damage or injuries but showing Israel they do not intend to keep the "calm."
Rocket attacks on rural areas are a favorite tactic by Hamas and allied terrorists to harass Israel and draw the IDF into a retaliation that foreign media usually portray as "disproportionate." Occasionally, a Kassam rocket explodes at a building and causes injuries or even death, in which case the media judge that Israel has more of a right to respond.
The Institute for National Security Studies (INSS) Monday defined the eruption of missile attacks on southern Israel 10 days ago as "inconclusive fighting" with "possible implications for the future."
Despite the success of the Iron Dome system in protecting Be'er Sheva, Ashkelon and Ashdod, its 80-90 percent rate of success still leaves one million residents open to a lethal missile attack, the report noted.
"Unless active defense is 100 percent effective, it will not eliminate the need for passive defense or prevent massive disruption of normal life inside the envelope of the rockets. Nor will it spare the government the need to take weighty strategic decisions that it would prefer to avoid," according to the Institute.
"Only sheer luck stood between government reluctance to embark on large scale escalation and irresistible domestic pressure to do so," it observed.
The report also said that the unstable political situation in Egypt does not guarantee that the regime can act in the future as an intermediary to tone down the violence, as it did last week.
"Political volatility in Egypt means that the Egyptian security establishment may not be able to go on playing this role in the future, even if its world-view remains unchanged," the INSS study stated. "Presidential elections in Egypt are scheduled,…[and] unlike in the past, the outcome of this Egyptian presidential election cannot be known in advance."
It also pointed out that the Islamic Jihad and the Popular Resistance Committees (PRC) have "hijacked" Hamas's agenda and were behind most of the attack.
Israel holds Hamas responsible for all terrorist attacks from Gaza, where the terrorist organization took  over in a bloody militia war five years, ousting the Fatah faction ruled by Palestinian Authority Chairman Mahmoud Abbas. However, Hamas has lost total control over rival terrorists, leaving the Gaza region subject to unofficial anarchy under the guise of an organized government.