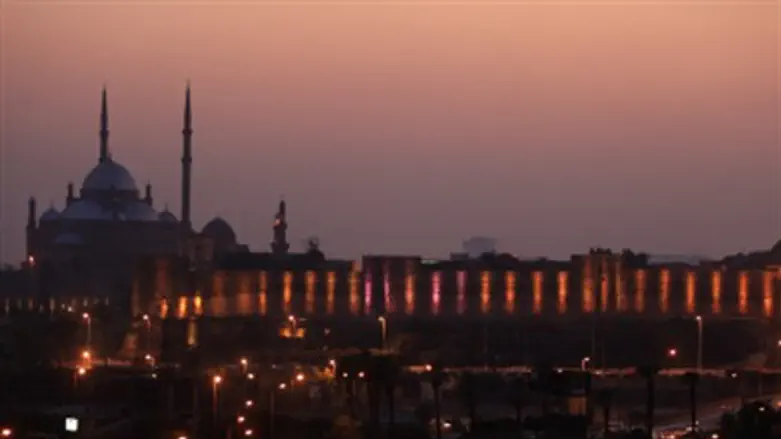 Muhammad Ali Mosque, Cairo
Israel news photo: Flash 90
A Muslim adviser to U.S. President Barack Obama warned in a post on the Twitter social networking site last week that Syrian President Bashar al-Assad can't deliver 'resistance to Israel.' The adviser, Egyptian-born Dalia Mohaded, is employed in the Office of Faith-Based and Neighborhood Partnerships, at the White House.
The tweet, posted on March 10 and picked up by the media watchdog Jihadwatch, read as follows: "To those siding w/Assad: he cannot deliver stability, protection of minorities, or resistance to Israel. He is a killer w/o legitimacy."
The tweet has sparked numerous responses in media, on the Internet and on Twitter reflecting concerns that Mohaded appeared to be more concerned about the Syrian president's inability to carry out "resistance to Israel" -- which is a key U.S. ally -- than his compassion for his own people, and his murderous rampages against them.
More than 8,000 Syrians have died at the hands of government forces since the Arab Spring uprising a year ago sparked brutal retaliation by Assad loyalists against civilian protesters, including torture, rape and other atrocities. Many of the victims were women and children. Turkey has reported at least 14,000 refugees from Syria have crossed the border near Idlib into its territory; the United Nations estimates that more than 200,000 people have been left homeless by the burgeoning civil war in which Assad's troops have fired heavy artillery at city neighborhoods in order to suppress the uprising.
The issue of Mogahed's questionable priorities has also been raised by the Family Security Matters (FSM) organization, who noted that Mogahed serves on the U.S. Homeland Security Council, and is an executive at the Gallup Center for Muslim Studies and its polling center.
"Mogahed has been a tenacious defender of groups like the Council of American-Islamic Relations (CAIR) and the Islamic Society of North America (ISNA), both of which are tied to the Muslim Brotherhood," points out FSM in a post on the organization's website.
CAIR was one of some 300 unindicted co-conspirators in the 2008 Holy Land Foundation conviction in which the organization was shut down for illegally channeling funds to the Hamas terrorist rulers of Gaza.
The organization insists that it is a civil rights group focused on promoting understanding of Islam and dedicated to fighting discriminating against Muslim Americans.