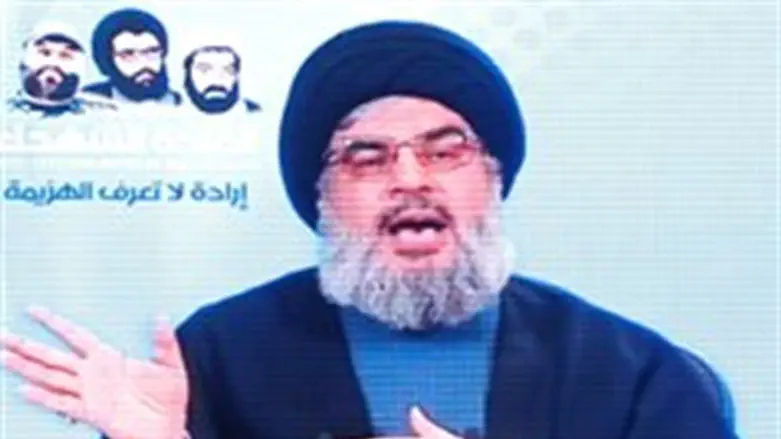 Hassan Nasrallah video speech at rally
Reuters
The leader of the Hizbullah terror group, Hassan Nasrallah, congratulated the terrorist organizations in Gaza on Thursday for causing half a million Israelis to spend days in shelters, as Gaza terrorists fired more than 200 rockets over a period of four days.

In a recorded speech which was broadcast in Beirut and reported on Army Radio, Nasrallah said, "This is a great formula" and praised the people of Gaza for "standing firm" in the face of the Israeli airstrikes.
Nasrallah also blamed Israel for the recent escalation in the south, saying, "The forces of the occupation began the fighting with the air strike that killed the leader of the Popular Resistance Committees, Zuhir Qaisi."
He added that "the events in Gaza reminded us of the hypocrisy and double standards of the West," and criticized some of the Arab media which he claimed cast the blame on the Arabs for the last round of escalation.

Nasrallah also commented on the events in Syria, on the day in which the popular uprising in the country entered its second year, and called for a diplomatic solution to the conflict.
He added that "those who rely on the fall of the regime, desertion or interference of foreign armies, are doomed to fail." He condemned the bloodshed in Syria and the harm caused to civilian lives.
"Our interest as Lebanese people is that the conflict in Syria be resolved," said Nasrallah. "We fear a split, civil war or chaos in Syria."