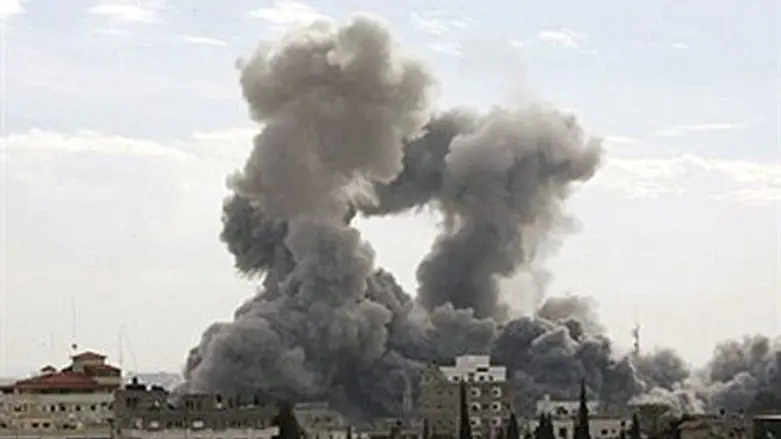 IAF Counterstrike (Gaza)
Israel news photo: Flash 90
IAF aircraft struck a rocket launching site in northern Gaza and a terror tunnel in southern Gaza Wednesday night.
According to a statement by the IDF Spokesperson, the aircraft scored direct hits and returned to their bases safely.
The airstrikes come in response to the latest rocket fire from Gaza into southern Israel. At least two Grad missiles were fired towards the city of Be'er Sheva on Wednesday evening. One of the missiles was intercepted by the Iron Dome anti-missile battery.
The battery failed to intercept a second Grad on the same trajectory, which fell short and landed in an open field outside of Be'er Sheva. No physical injuries were reported in the attack.
The attack is only the latest violation of the Cairo-brokered ceasefire between Israel and terrorists in Gaza, which followed on the heels of a mortar attack that fell short of the Gaza security fence a few hours before.
A Grad-type missile also hit a residential area in the southern town of Netivot late Tuesday. One person was lightly wounded.
The Netivot attack was followed up by twin IAF airstrikes on rocket launching cells in reprisal. The IAF reported direct hits in both cases.
"The IDF is ready to defend Israeli citizens and to respond forcefully and decisively against any attempt to carry out terrorist activity," the IDF's statement on Wednesday night said.
"Hamas, which takes advantage of the other terrorist organizations to perpetrate terrorist attacks against Israel, will be responsible for future action which the IDF chooses to take to remove the threat of terrorism and restore relative calm to the area," added the statement.
During the four days of hostilities prior to the truce, terror groups fired more than 200 rockets at Israeli civilians, while the IAF responded with airstrikes.