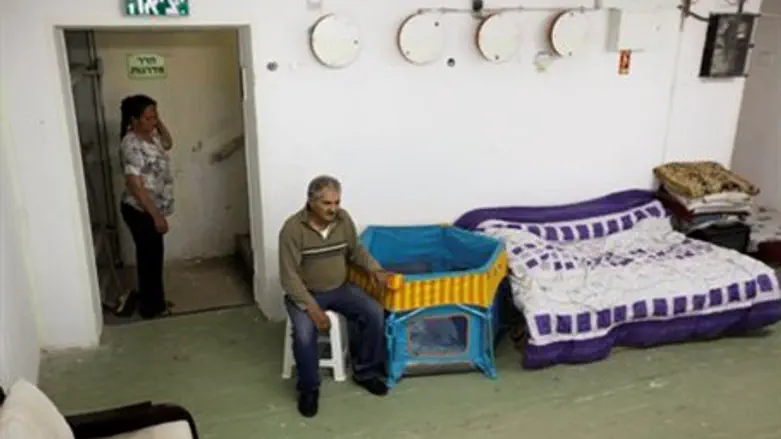 Inside a bomb shelter
Reuters
Gaza terrorists attacked the Eshkol region in the western Negev around 7:45 Tuesday, hours after a "ceasefire" officially went into effect.
The Iron Dome anti-missile system does not operate in rural areas, and the rocket exploded in an open area without causing damage or physical injuries.
Previous ceasefires generally have been broken immediately, sometimes as a tactic to test Israel's response and often because of the lack of total control of Hamas over rival terrorist groups. Ceasefire usually end up being a period of "calm" in which Gaza terrorists occasionally fire short-range Kassam rockets on rural areas.
Sources in Egypt, which arranged the ceasefire with Hamas, said the truce officially took effect at 1 a.m. Tuesday. Shortly afterwards, a rocket exploded near Sderot in the western Negev without causing harm.
Hamas had demanded that Israel promise to halt pre-emptive counterterrorist operations against "ticking bomb" terrorists but settled for a ceasefire without Israel's agreeing to the condition.
As with previous resumptions of missile attacks from Gaza, the latest barrage appeared to continue until Israel was seriously thinking of sending troops into Gaza, a scenario that neither Hamas not Israel wants.
One of the strongest deterrents to continued rocket attacks is the Iron Dome anti-missile system, which scored a remarkable success rate in intercepting missiles before they could explode in urban areas.
If Hamas had wanted to face the IDF within Gaza, it easily could have launched longer-range missiles that could strike metropolitan Tel Aviv. Instead, it apparently has backed off and settled for another round of tit-for-tat missile attacks and retaliation, except this time around, Israel sustained relatively little damage while the IDF succeeded in killing more than 20 terrorists with only a minimum number of civilian casualties.