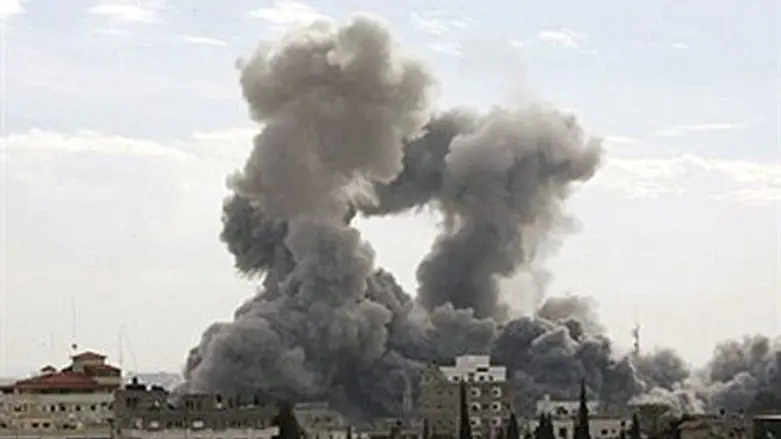 IAF Counterstrike (Archive)
Israel news photo: Flash 90
The IDF eliminated two terrorists Monday night as they prepared to fire a rocket into Israel from Gaza.
According to the IDF, one of those killed in the strike – which occurred around 21:30 (GMT+2) – was terror leader Bassam Ajala.
The Ezzedeen al-Qassam Brigades information office confirmed "Two Palestinians were killed in northern Gaza by Israeli forces."
The strike was the second in five hours targeting a rocket launching crew in Gaza as the tally of rockets fired at Israel's southern towns tops 200.
Earlier, IDF forces killed two terrorists seeking to launch a rocket from the vicinity of a school in northern Gaza. Pilots reported bystanders who passed near the terrorists during the strike were injured in the strike.
The IDF spokesperson's office said the incident was proof positive terrorists are using civilians as "human shields."
"This incident demonstrates that terrorist groups in Gaza use human shields and fire rockets from densely populated areas," the statement added.
Meanwhile, IDF commanders say they are ready to undertake a major ground incursion into Gaza if so ordered.
"The IDF is prepared for any development, including a situation where we are forced to launch a ground operation," IDF Spokesman Brig.-Gen. Yoav Mordechai told Army Radio Monday night.
"We have everything we need and are ready to step it up if needed. There are many measures that we haven't employed yet," Mordechai said.
"There is no effective control in Gaza, and no clear distinction between the political and military wings of Hamas… we are prepared to turn it up a notch," he added.