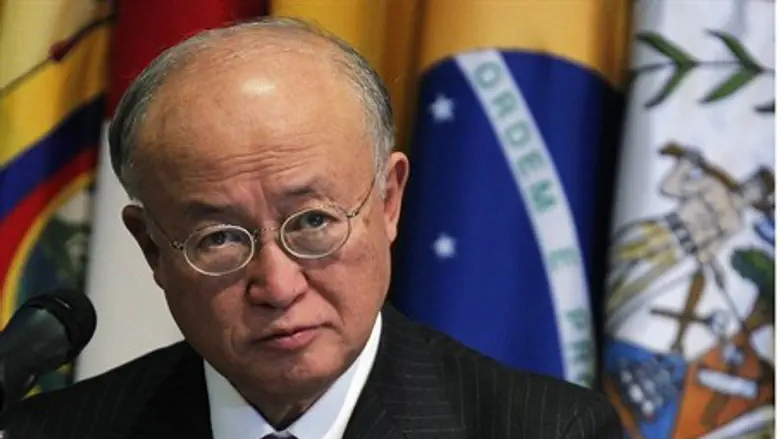 IAEA Director General Yukiya Amano
Reuters
Satellite images of an Iranian military facility appear to show trucks and earth-moving vehicles at the site, indicating an attempted cleanup of radioactive traces possibly left by tests of a nuclear-weapon trigger, diplomats told The Associated Press on Wednesday.
The diplomats who spoke to the news agency are all nuclear experts accredited to the International Atomic Energy Agency.
Two of the diplomats told AP the crews at the Parchin military site may be trying to erase evidence of tests of a small experimental neutron device used to set off a nuclear explosion. A third diplomat could not confirm that, but said any attempt to trigger a so-called neutron initiator could only be in the context of trying to develop nuclear arms.
The diplomats also said they suspect attempts at sanitization, because some of the vehicles at the scene appeared to be haulage trucks and other equipment suited to carting off potentially contaminated soil from the site.
The images, provided by member countries to the IAEA, the UN's nuclear watchdog, are recent and constantly updated, one diplomat told AP.
While the IAEA has already identified Parchin as the location of suspected nuclear weapons-related testing, noted the report, it did not mention a neutron initiator as part of those tests.
In contrast, the intelligence information shared with AP by the two diplomats linked the high-explosives work directly to setting off a neutron initiator at Parchin.
One official from an IAEA member country with good intelligence on Iran, told AP the Parchin neutron initiator experiments were conducted between 2003 and 2010. Another said any such tests were closer to 2003, adding it was not clear whether they were successful.
The news comes a day after Iran said it will allow IAEA inspectors to visit the Parchin military complex near Tehran. Iran said, however, that the visit will not be allowed until an agreement is reached on inspection guidelines.
The five permanent members of the UN Security Council and Germany later said they are set to resume nuclear talks with Iran. Israeli officials welcomed the resumed nuclear talks but at the same time remained skeptical.