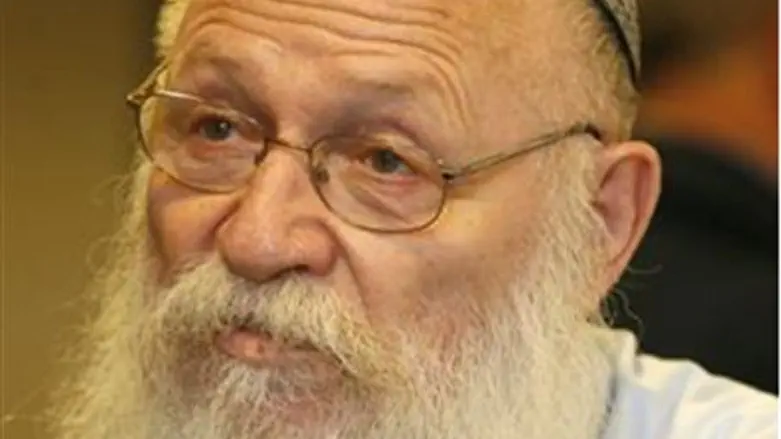 Rabbi Chaim Druckman
Israel news photo: Flash 90
Leading nationalist religious Rabbi Chaim Druckman will receive the Israel Prize for his contributions to society and education, Education Minister Gideon Saar announced Wednesday.
Rabbi Druckman, who heads the Bnei Akiva movement, was nominated by the Israel Prize selection committee headed by retired High Court Justice Yaakov Turkel.
The rabbi was noted for his "special contributions to the society and to the country and for his work in the area of education and religious Zionist youth."
He helped found the hesder yeshiva program, which combines Torah study with service in the IDF, and he founded the Ohr Etzion yeshiva, where students also learn the fundamentals of the military.
Rabbi Druckman, born in Poland in 1932, has worked for decades for "uniting the people of Israel," the selection committee noted. He also has been active in absorbing immigrants from the former Soviet Bloc and from Ethiopia, and he heads a special rabbinical court for conversions.
He moved to pre-state Israel in 1944 after having been rescued from the Holocaust. Rabbi Druckman learned at the Mercaz HaRav Yeshiva in Jerusalem and was a leader in the establishment of the Gush Emunim movement that promoted a Jewish presence in Judea, Samaria and Gaza.
He served in the Knesset but lost his position as Deputy Minister of Religious Affairs in 1982 for opposing the Camp David Accords in which Israel agreed to major concessions to the Palestinan Authority.