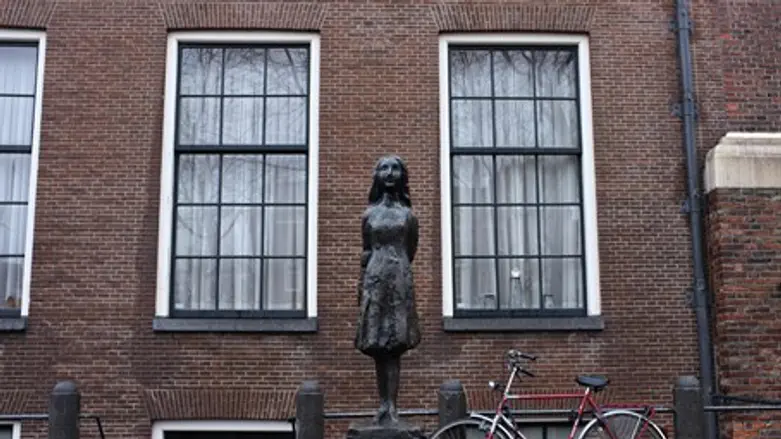 Anne Frank's house
Flash 90
Tina Strobos, a Dutch woman who rescued more than 100 Jews during the Holocaust, passed away, on February 27 at the age of 91, at her home in Rye, N.Y.
Strobos, who died of cancer, was honored as "righteous among the nations" by the Yad Vashem Holocaust memorial museum in Jerusalem in 1989.
Executive Director of the Holocaust and Human Rights Education Center in White Plains, N.Y., Donna Cohen said that to save one person "was an extraordinary feat," but Dr. Strobos, who saved dozens, was "the ultimate rescuer."
Yad Vashem documented that about 80 percent of the 140,000 Jewish residents of Holland were murdered at the hands of the Nazis.
Anne Frank, the teenage girl whose diary came to symbolize the story of countless Jews who were forced into hiding in an attempt to escape the Nazis, hid with her family in an Amsterdam attic just blocks away from Dr. Strobos's home.
Dr. Strobos maintained a life long regret for not being able to help Anne Frank. "If I knew they were there, I would have gotten them out of the country," she said.
The Washington Post reported that, "In the beginning, she worked primarily on arming and equipping the resistance fighters. She ran guns, explosives and radios, sometimes hiding them in her bicycle basket during journeys of 50 miles. But as armed resistance became increasingly dangerous, she turned her efforts to helping her Jewish friends and, later, others seeking a way out of the country."
As the situation in the Netherlands became more dire, Dr. Strobos and her mother turned their three-story home, which was just behind the Royal Palace of Amsterdam, into a Jewish shelter and provided their guests with food and medical care as well as false passports.
The Talmudic saying, "Whoever saves a single soul, it is as if he had saved the entire world," may best articulate the heroic life of Dr. Strobos and the memory she will leave behind.