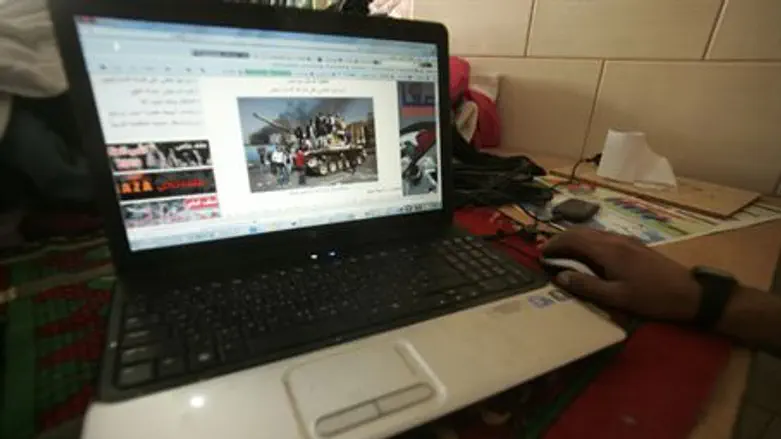 Computer (illustrative)
Israel news photo: Flash 90
Two teenage girls who were apparently trying to commit suicide were driven to a final, desperate act because of cyber-bullying, police said. They were saved only because an observant resident informed rescue services before they could die of exposure. Police are currently gathering evidence in the case and intend to press charges.
The girls, 13 and 14 years of age, were found Wednesday night unconscious in the water off Ashdod. A resident of the city had observed them going into the water in the middle of a fierce storm. Rescue workers fished them out of the water and revived them, taking them to Barzilai Hospital in Ashkelon for treatment. Both will apparently be fine, doctors said, and one of the girls was released Thursday morning, while the second will likely be released later Thursday.
According to the statement the girls gave police, the two are students in the same class in an Ashdod intermediate school. The two have been tormented and ridiculed continuously for years by classmates, both in person and on the Internet – especially on Facebook, where classmates have spread rumors and embarrassing stories about them. Police did not release details, but said that the bullying had been "extended and intense." Police said they would investigate the bullying, both online and offline, and file charges where and when appropriate.
In a statement, the Ashdod municipality said that "the city's head of social service was given all the details of the case and immediately began an investigation and will work professionally with the girls and their families."
"Bullying by classmates does not always take the traditional form of physically being pushed around, as we once thought of it," said Hana Levi Julian, a behavioral psychotherapist in Jerusalem and Arad. "One of the worst forms of bullying is that which the Torah also condemns, and likens to murder itself -- that of embarrassing or publicly ridiculing another person.

"Kids single out and target others very often, especially in school, where they have plenty of opportunity before and after class, during recess and on lunch breaks. There needs to be more staff supervision during these unstructured times, and teachers need to be trained to deal with this problem when it occurs during their classes as well -- which it does," Julian said.
Speaking Thursday morning, MK Zvulun Orlev chairman of the Knesset Committee on Children's Rights, said that "the worrying report on these girls' suicide attempts because they were bullied on Facebook is a clear proof that we, the adults, are not doing enough to protect our children, who are exposed to all the good, and the bad, that the new technological civilization has to offer."
The Committee has scheduled a session next Tuesday to discuss ways to protect young people from damaging content on the internet. "These suicide attempts are the tip of the iceberg of true suffering that youths can be pushed to by people of their own age," Orlev added. "Social networks represent a powerful tool that can radically worsen social problems. The suffering, however, is not virtual, but is truly felt, to the point where loss of life can be a result."
In a discussion of the near-tragedy on Israel Army radio, experts emphasized that this is a worldwide problem that is not controllable by the extant Internet filters that keep unsuitable material from dowloading. Now that young people can text message as well as use social networks without limitations, parents and educators have to work to open lines of verbal interpersonal communication that will encourage their youngsters to talk to them about what they are doing - and what is being done to them.